Your bedroom in your zodiac style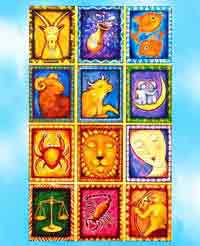 Interior Design and Astrology go hand in hand because both are about personality. Your zodiac can help determine how you should best decorate your house. If your living space is in harmony with your zodiac sign there will be a lot of tranquility and positive vibes in the space you inhabit.

Written below are tips for making your bedroom jive with your astrological sign.

Aries
You act impulsively and with flash. You're also the first sign of the zodiac, and that youthful optimism means you love to take chances with design. Your room will always reflect vitality and life. You might carry a talent you learned as a child - such as antiquing or stamp collecting - into adulthood and put it on display. Or, you might try to make children feel comfortable in your space; for example, designating a kid's corner with a red sitting chair for story time. Bold and opinionated, fiery pops of colours are what an Aries needs to feel warm. Just be sure to pick and choose a red wall or red bedding so all that the warmth doesn't overwhelm.
Your colours: Bold reds and ambers, used in moderation.



Taurus
You know what you like, and you're not about to change your mind. For you, the ideal bedroom is about comfort and luxury. It should reflect wealth and the finer things in life. Think: The palace of Versailles! You'll choose elegant details - finely tailored curtains, custom-made bedding - and spare no expense to make your home a haven. Just beware of too much opulence. Add basics, like a rich wooden bed frame to ground those fine silken sheets, matching duvet, and pile of plush throw pillows! Then recline with a fine glass of wine. Ah, bliss!
Your colours: Earth tones, modest neutral browns, rich roses and pinks.

Gemini
You prefer the beautiful and trendy - as long as it brings people together in conversation. Being the sign of the twins (and their inherent duality), Geminis are hard to nail down when it comes to design. But your style is definitely "what's hot", not "been there, done that." Luckily, you have a fabulous taste. For the bedroom, think modern art with clean geometric lines, two modern nightstands on each side of a floating bed. Place a futon-turned-sofa on the side so your friends can sit and gab. Then, add a clear vase to show off that season's bloom.
Your colours: Light airy yellows, greens and blues.

Cancer
You make your presence known without dominating. Your space? An emotionally appealing shell in which everybody can kick back. Incredibly sensitive, you pick up vibes easily. You'll want only things that breathe life into your room. Add plants you can coddle, a bubbling fountain whose sounds will soothe you, and candles scented like the sea. Also, don't forget to hang curtains to block out the light - moon and sun - to which you're particularly sensitive. Finally, designate a sacred space for family pictures - for a sentimental sign like yours, looking at them is the quickest way to click your heels and feel at home.
Your colours: Whites, pearls, yellows and periwinkles. The colours of the moon reflecting light.

Leo
You're proud about your opinions and don't mind being the centre of attention. In fact, you want everyone to adore you! The sign of the lion, your style is regal, noble and dominant like the sun. Go on, paint a wall with a daring colour. Think bright and sunny, like a day at the beach. Then add a gilded mirror, in which to admire that mega-watt smile. Or hang that painting you made: Leos loves self-expression of all sorts. A canopy bed can be your modern-day throne - or perhaps it's a regal sitting chair in the corner with a matching ottoman on which to lay your feet.
Your colours: Oranges, yellows, reds, purples. The colours of the sun and the light it reflects.













Ask our Experts :
Expert Advice, Personality, Immigration (US), Tarot, Hot Couture, Body Care, Matrimonial Laws, Sexual Health, Life, etc, Man vs Woman, Fitness.

Copyright © 2020 Shaaditimes.com - A relationship and wedding portal by Shaadi.com. - All Rights Reserved.
Terms and Conditions