Hometruths
How important are designers?


There's more to a home than four walls and a roof. It is your identity, and designing your home is therefore not a task to be taken lightly. Designers have their own ideas but your home is a reflection of your personality. In the end, it's up to you to lend it some character.

It goes without saying that when you plan to design your home, you must pay attention to the minutest of things. Ideally, your home should be a reflection of yourself, of your style and your dreams. The process involves conceptualising ideas and evaluating options for the floor plan, reviewing preliminary conceptual designs and preparing working drawings and specifications, which are the written instructions for building your home.

Designer or no designer?

Designing a home that will fit your budget is crucial. Experience says that the hardest part of the custom-home design is matching one's needs and dreams with the realities of your budget. Bhadresh Patel, who moved into his own home after marriage (Shadi), says, "Budget was the topmost factor dictating my decision of designing my flat. While designing the home, I had to compromise on many aspects because of my budget restrictions. But yes, the end result was very close to my dream home. I did not believe in hiring a designer as I knew what I wanted and also did want to add to the financial burden as they charge exorbitant fees and you later realise that you could have done it the same way."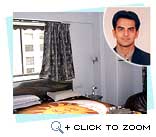 Designers tend to stretch the size or specifications of the home beyond what is realistic in an effort to please the owner. So, the trick is to disclose only 50% or 60% of what you are willing to spend. Says Gautam Gurnani, who recently helped his father design their newly-purchased home, "The designers, inadvertently, tend to go beyond the budget you have given them. So it's better to disclose only a part of your actual budget." But, how important are designers? According to Gautam, "A designer is a must. A designer is the difference between a dream home and a 'nightmare' home. Designers are experts, and they give shape to your dreams and help translate them into reality.


Besides, even communicating with carpenters and telling them the exact curve and cut and other technical details is a job best left to the designer. There are two ways of designing a house with the help of a designer: one is to give him or her a free hand with minimal supervision, and the other is to only consult a designer and take all the decisions yourself. We did the latter, but I would suggest going for the former and give the designer a free hand to see effective results."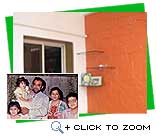 Not everyone subscribes to Gautam's viewpoint. The Godhrawalas, who are in the process of renovating their house, are unanimous: "We did not feel the need of a designer. We knew what we wanted and communicated it to the contractor. We guided him in everything - from the purchase of raw material to the placing of the lamp shade, everything as per our taste. Our home is almost renovated and it is turning out to be exactly the way we wanted it to be."

Designer or no designer, one thing is sure, everyone wants their dream home to be perfect. Sameer Gupta, who is soon planning to marry and move from a rented flat to one of his own, says, "I am not decided on the designer issue as yet, but yes, one thing is that I have fixed my budget and if a designer fits into that budget, well and good, but if it doesn't, it's fine. I know I am going to make a house just like the one I have thought of."













Ask our Experts :
Expert Advice, Personality, Immigration (US), Tarot, Hot Couture, Body Care, Matrimonial Laws, Sexual Health, Life, etc, Man vs Woman, Fitness.

Copyright © 2019 Shaaditimes.com - A relationship and wedding portal by Shaadi.com. - All Rights Reserved.
Terms and Conditions