To Fast Or Not To Fast
Tasty Recipes For Shravana


The holy month of Shravana is upon us, bringing with it days of fasting. So, whether you're fasting the entire duration of the month, or simply the 4 Somvaars (Mondays), here are some delectable recipes that will turn your fast into a feast!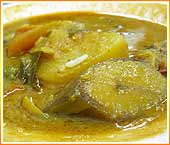 Kacche Kele Ki Curry (Curry of Green Bananas)

Ingredients
2 green bananas (unripe)
1 green chilli, chopped
1 tsp coriander leaves, chopped
1 tbsp curd
1/4 tsp turmeric powder
1 tsp lemon juice
1/2 tsp cumin seeds
1 stalk curry leaves
Salt as per taste
1 tbsp oil

Preparation
Chop the unripe bananas into boiling water that has the turmeric in it. Cook till bananas become soft and then drain the water. To the boiled bananas, add salt, curd, and little turmeric. Mix nicely. Heat oil. Add cumin seeds and curry leaves. Wait till cumin seeds splutter and then add the banana mixture to it. Add quarter cup of water and allow to cook for 3-4 minutes, covered. Reduce water till desired consistency, add limejuice, and sprinkle coriander for garnish. Your tasty banana curry is ready to eat!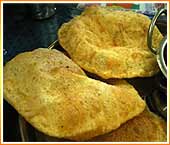 Rajgirah Ki Puri (Water Chestnut Bread)

Ingredients
1 cup rajgirah ka atta (available at most grocers, also known as Kuttu ka atta)
Pinch of salt
1/2 cup water
Oil for frying

Preparation
Knead the rajgirah ka atta into a dough using water. Make sure to knead enough only for one puri at a time. Roll out the puri and fry. You can use ghee for frying if you prefer it to oil. Repeat till the entire atta is used up.
Tip: Rajgirah ka atta does not stay well when mixed with water. Thus, you cannot knead the entire atta at once, but will have to knead atta for 1 puri, roll it out, fry it and repeat. The end result will surely be worth it!


Fasting Peanut Chutney

Ingredients
1/2 cup peanuts
2 tsp curd
1/2 tsp lemon juice
2-3 green chillies
1 tsp cumin (jeera) powder
Pinch of salt
Pinch of sugar

Preparation
Soak the peanuts in water for about an hour. Remove the peanut skin (if any) and dry blend along with green chillies, salt, cumin powder, and sugar. If you do not use sugar while fasting, you can use jaggery instead of sugar. Do not add any water while blending. What you will get is a thick powdery consistency. Once the peanuts have turned into powder, add the curd to the mixture. Also add 1/2 tsp limejuice to the mixture. The same recipe can also be made using peanut powder instead of whole peanuts. If using powder, simply skip the first point of preparation.
This chutney is healthy and filling too. A great accompaniment for other fasting snacks such as aloo tikkis, sabudana wadas, banana fritters etc.


Ruchi Agarwal
Philips Toaster Oven - HD4495/25
Royal Casserole Set - 3 Pieces
Philips Grill - HD 4428
Rs.3,195 ($66.37)
Rs.985 ($20.46)
Rs.5,495 ($32.05)











Ask our Experts :
Expert Advice, Personality, Immigration (US), Tarot, Hot Couture, Body Care, Matrimonial Laws, Sexual Health, Life, etc, Man vs Woman, Fitness.