« continued from previous page


Festive Savouries

Maash Ki Daal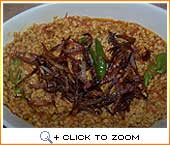 Ingredients
1 cup (180 g) Dhuli Urad ki daal (husked black gram), soaked for 5-6 hours
1 tbsp finely chopped ginger
1 tsp (or to taste) finely chopped green chillies
2 tsp salt
1/4-cup (60 g) ghee
1 cup (250 g) uniformly sliced onions


Method:
Drain the water of the daal. Mix the daal, ginger, green chillies and salt in 1 1/4 cups water.
Bring to a boil and then simmer covered, for 30-40 minutes or till cooked through. The water should be absorbed, but the daal is moist and soft.
Heat the ghee and sauté the onions in it till brown and crisp.
Transfer the cooked lentils on to a serving dish and serve garnished with the onions.
Nirali's 3 pieces Gift Set
Prestige Omega Saute Pan
Prestige Premium Appachetty
Rs.2,460 ($51.10)
Rs.1,130 ($23.47)
Rs.670 ($13.92)











Ask our Experts :
Expert Advice, Personality, Immigration (US), Tarot, Hot Couture, Body Care, Matrimonial Laws, Sexual Health, Life, etc, Man vs Woman, Fitness.