Planning a baby?
Know about the right time, right age and much more


Dr. Aniruddha Malpani
Renowned infertility specialist. He runs an infertility clinic in Mumbai and has written many books.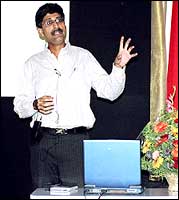 Adding great value to Shaadi 2005, the national wedding expo, organised by Shaadi.com in Mumbai, were our celebrated experts holding interactive sessions for all our guests. Infertility Specialist Dr. Aniruddha Malpani gave an enlightening talk on 'How to plan a baby?'.

The raison d'être

One of the reasons most couples get married is to have a baby, so that they can propagate the family name. In the past, most couples were unable to plan their family and women started having a string of babies as soon as they got married. Today's woman has much more control over her reproductive decisions, and most of us plan a pregnancy only when we are ready to start a family. While it's great to have so much choice, this also means that you need to make this decision responsibly.



Remember that having a baby is a joint decision, in which both you and your spouse need to participate. However, not only does this decision impact you and your lifestyle, it also has major social consequences. Mothers and mother in laws will start worrying and "dropping hints " if you don't announce some "good news" in a few months, unless you let them know what your reproductive plans are.

There is no shortage of well-meaning advisors, but this is such a personal decision, you cannot allow anyone else to make it for you. Your life is unique, and you should have the courage to make up your own mind. Having a baby is usually the "woman's department" and you will have to bear the lion's share of the responsibility for making decisions. You may be quite surprised and even dismayed by how uninterested your husband appears to be, but do remember that Men are from Mars, and most men are quite happy to leave baby making upto the wife.

Men are from Mars
This simplifies matters considerably, but matters often get very sticky when a woman hears her biological clock ticking and wants to start a family, but her husband disagrees, because he doesn't want to give up his "freedom" as yet. Disagreement on this topic can be a major cause of marital disharmony. It is best to decide about starting or expanding a family when you and your spouse are emotionally and financially able to do so. A child needs a secure family to grow up in and there is not much point in having a child when you and your partner are having problems with your own relationship.

Shelf life
Which is the best time to have a baby? A woman's fertility and her chances of having a healthy baby are maximal between the ages of 20 to 25, so from a biological point of view, this is the best time. Fertility does start to decline after the age of 25, but this decline is so gradual until the age of 30, that it's safe in the majority of women to postpone starting their family uptil this age. After 30, it's worth putting this on your priority list; and after 35, fertility does drop fairly quickly, so pay attention to your biological clock.

Issues and more issues
Having a baby means taking on a major responsibility, and this is going to affect your work and career. What will you do about your job? Will you go back to work on a part-time basis? Will you stay at home?

If you already have a child, you also need think about the effect on your other children.

Many children love the idea of having a younger brother or sister to look after. Others may be less certain, as they may not want to share you with another baby. You need to prepare your children as well!













Ask our Experts :
Expert Advice, Personality, Immigration (US), Tarot, Hot Couture, Body Care, Matrimonial Laws, Sexual Health, Life, etc, Man vs Woman, Fitness.

Copyright © 2020 Shaaditimes.com - A relationship and wedding portal by Shaadi.com. - All Rights Reserved.
Terms and Conditions