Pleasuring Your Partner Orally - STDs & Protection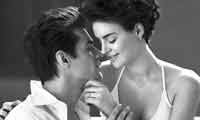 Well, it seems that Indians aren't as shy about talking of oral sex as I thought, after all! We have received a tremendous response to our first article about oral sex.

Our readers have also sent in hundreds of requests asking us to elaborate on ways to make oral sex more enjoyable, and mention the specific diseases that can be transmitted through the act.


So, here goes:

Sexually Transmitted Diseases (STDs) and Oral Sex

Here is a list of the STDs that can be contracted through unprotected oral sex:
HIV: Yes, the big one! It is possible to contract and spread HIV through oral sex. If you are performing oral sex on someone with HIV and you have any cuts, blisters, or open sores in your mouth, then the infected semen can enter your body through those cuts and the HIV virus can enter your blood. Alternately, if you are receiving oral sex from an HIV+ person who has cuts or blisters in their mouth, then there is every chance of the HIV virus entering your body through cuts or abrasions on your genitals.

Breast milk also contains the HIV virus. Therefore, oral sex on the breasts can also put you at risk of contracting HIV. Since saliva does not contain any significant amounts of the HIV virus, kissing your partner does not pose risk of HIV, unless of course you both have cuts or blisters in your mouth.

Chlamydia: This is an STD caused by the Chlamydia trachomatis bacteria. It affects women more than men and can cause severe damage to their reproductive system, including permanent infertility. Majority of the cases of Chlamydia do not show any symptoms, but some common signs of this disease are:

Pain while urinating
Smelly vaginal or penile discharge
Spotting after intercourse
Persistent lower back pain

Oral Herpes: An STD caused by the herpes simplex virus, oral herpes can result in small, painful blisters and cold sores around your mouth. Although not a permanent infection, it can take months and sometimes even years to be cured completely.

Gonorrhea: This is another STD that can be transmitted through oral sex. The Gonorrhea bacteria usually affects a woman's vaginal opening first and can then spread to the insides of the womb. This STD can cause infertility in women, and also increases the chance of a tubal pregnancy (a pregnancy that does not happen in the womb but in the fallopian tubes).

Hepatitis A and E: Both these diseases can be spread through oral sex. Hepatitis A and E both are contagious viral infections of the liver. Although not fatal in 99.5% of the cases, these diseases can weaken your liver considerably. Some of the common symptoms of hepatitis are:

Fever
Diarrhoea
Loss of appetite
Vomiting
Jaundice
Dark coloured urine
Pain in the abdomen

Some other STDs that can be contracted through oral sex include syphilis and yeast infections.

However, all these diseases can be passed through intercourse and anal sex too. In fact, the chances of contracting an STD via oral sex are lesser than from regular intercourse and even then it is barely - 0.1%.

The best thing to do for yourself and your partner is to indulge in protected oral sex.

How To Indulge In Protected Oral Sex

You can practice protected oral sex in the following ways:
Use condoms if oral sex is being performed on a man. Make sure the condom is of a good quality and is worn properly.
Use dental dams (also known as women condoms) when oral sex is being performed on a woman.
Make sure your genitals, as well as the surrounding area, is washed and cleaned thoroughly. Not only does this help in ensuring protected oral sex, but also enhances the pleasure of the activity considerably.
Stick to one sexual partner at one time. Bed-hopping is the fastest way to contract STDs.

Stay tuned for 2 more articles coming up in this series where we tell you about specific techniques and tricks to make oral sex more enjoyable for your man or woman!


Ruchi Agarwal
Citizen Ultrasonic Nebulizer
Wockhardt Senior Citizen Check
Digital Ear Thermometer
Rs.4,200 ($89.59)
Rs.6,040 ($128.84)
Rs.3,500 ($74.66)
Rs.2,800 ($59.73)
Rs.2,031 ($43.32)
Rs.2,900 ($61.86)











Ask our Experts :
Expert Advice, Personality, Immigration (US), Tarot, Hot Couture, Body Care, Matrimonial Laws, Sexual Health, Life, etc, Man vs Woman, Fitness.