Pleasuring Your Man Orally- Part IV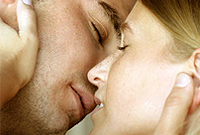 Oral sex may not be as easy to give or receive for women as it is for men. However, if you can set aside your inhibitions about oral sex (at least long enough to read this article), you could learn everything you need to know to make your man think of you as a love Goddess. Here are some tips and tricks for pleasuring your man orally, which are guaranteed to ensure you'll have a great relationship in bed.


Tips And Techniques To Pleasure Your Man Orally
Don't do it just for him: There is no doubt that you're doing this to please your man, but if you're doing it just for that and are not getting any pleasure from the act yourself - there's a problem. Your negative vibes or your hesitation will make its way to your partner and his pleasure will diminish greatly. So, try and enjoy yourself during the act too. In fact, watching your man groan with pleasure should make it pleasurable for you too.

However, if you simply cannot bring yourself to enjoy it too, perhaps it would be better to talk with your partner and not be forced into doing things that don't please you.
A little dirty talk please: Men love it when their women talk dirty to them, especially if you take them by surprise. So, indulge in some naughty talk when you're giving him oral sex. Even something not so risqu? such as, "Do you like this" or "Does this feel good" can do the trick and send your man over the edge. And, if you can get yourself to talk dirtier than this, there really is no telling how much pleasure you and your partner can derive from 'talking' alone!
Tease him: Just as women like foreplay before the main act, so too men like to be teased before you actually go down on them. Caress the insides of his thighs, clench his buttocks, and pay attention to his nipples, and spray kisses on his abdomen to make him ready for more!
Use your mouth gently: An erect penis is very sensitive to touch, so make sure you do not apply too much force and are not too harsh in your touch. While gentle nibbling and licking are ok, you should never bite or blow too hard on your partner's penis. Men typically love any kind of licking and sucking, so you don't have to worry whether you're doing it right or wrong. Also caress the testicles to drive him crazier with pleasure. Do be careful not to let your teeth cut or scrape his privates.
Give him a hand: Oral sex on a man is not all about using your mouth, but also involves using your hands. Pulling on the testicles gently, squeezing them, caressing them between your palms, touching the butt and surrounding areas too will make your man feel like he is in heaven.
Taking him all the way: This is a touchy topic. Frequently, women enjoy the act of working their men orally, but shy away from actually going all the way. An option is to keep sucking and kissing till your partner is close to the grand finale and then you can stroke him till he achieves his orgasm. This is the best way to take him all the way for those who don't want to swallow the sperm.

However, if you're comfortable swallowing your partner's sperm, you can take him to orgasm by sucking. After achieving orgasm, the penis becomes extra sensitive so continue to lick and suck him for another few seconds till he literally begs you to stop.

Important: Swallowing a man's sperm does not pose any health hazards, nor will it make you pregnant. However, if you're not too thrilled with this idea, do not let your man force you into swallowing his sperm.

Thus, if you can be confident enough to give your man oral sex and receive it in return, you can do wonders for your sex life. Do make sure to have protected oral sex and only with someone who you know does not have multiple sex partners or any sexually transmitted diseases.
Ruchi Agarwal
Digital Wrist Bp Monitor
Digital Ear Thermometer
Wockhardt Well Women Health check
Rs.4,500 ($95.99)
Rs.3,500 ($74.66)
Rs.5,500 ($117.32)
Rs.3,999 ($85.30)
Rs.2,900 ($61.86)
Rs.3,949 ($84.24)











Ask our Experts :
Expert Advice, Personality, Immigration (US), Tarot, Hot Couture, Body Care, Matrimonial Laws, Sexual Health, Life, etc, Man vs Woman, Fitness.