Is Backdoor Action In The Bedroom Normal?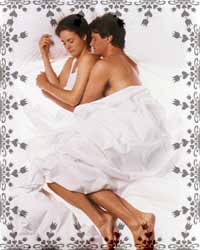 There are various sexual acts that people indulge in to derive pleasure and satisfaction - anal sex being one of them. However, since anal sex is considered to be somewhat 'kinky' behaviour, not many people want to talk about it or even admit that they do enjoy some backdoor action every now and then. And the fact that anal sex is largely thought to be something that only homosexual people indulge in, makes it all that much more a taboo topic!

The fact also remains that a lot of people do indulge in anal sex and it is a very oft-practiced sexual act. So if you too are interested in trying some backdoor action, you don't need to think that you're doing something 'weird'. However, to ensure that you don't put your health at risk nor that of your partner, you do need to know how to practice safe anal sex.


But before we get to that, let's talk about whether anal sex is 'normal' or not.

Personally, I don't like to categorize any sexual act as normal or abnormal. As far as anal sex is concerned, it may be very normal for people who enjoy it whereas it may be extremely abnormal behaviour for those who just cannot fathom how anyone can even try anal intercourse, let alone enjoy it!

The important thing to consider here is how both the partners feel about backdoor sex.

Are they comfortable doing it? If yes, then who's to say it is not normal behaviour.

Do both of them think it is Ok? If yes, great. If not, then they definitely need to discuss the unusualness of the act and not force (or be pressured) into doing something that they don't want to do.

Practicing Safe Anal Sex


Using condoms and lubricants: Since the rectal tract and the vaginal tract are not connected, it is not possible for a woman to get pregnant through anal intercourse. Even so, it is absolutely imperative that a condom be used during the act. This is because the anal tract does house many bacteria (even when absolutely clean), which can cause burning sensations and infections. Thus, using a condom will protect you from all that.

Using a lubricant is also important during anal sex because the rectum does not lubricate naturally like the vagina. Make sure you use a lubricant that is water based and not oil based, as oil based lubricants can damage the condom.

Anal sex and AIDS: With regards to AIDS, unprotected anal sex is the most risky way to contract this deadly disease. There is a great likelihood of the rectal lining tearing during backdoor sex, thus allowing AIDS infected blood to pass into the other partner, thereby infecting him/her too. However, AIDS can be transmitted in this manner only if you are having anal sex with someone who already has AIDS. If both the partners are AIDS-free, there is no way you can get AIDS from such an act.

But because the risk is so great, even doctors are now recommending that people avoid practicing anal sex even if they have just one partner who is free from AIDS.

Anal sex and vaginal intercourse: Rectal bacteria can very easily be transferred to the vagina, thus causing a host of vaginal infections. Thus, if you're going to have backdoor sex, do not have regular intercourse at the same time. If you must, then make sure you change the condom and clean yourself thoroughly before proceeding.
Ruchi Agarwal
Wockhardt Cardiac Health Check
Digital Thermometer
Digital Ear Thermometer
Rs.7,210 ($153.80)
Rs.950 ($20.26)
Rs.3,500 ($74.66)
Rs.2,708 ($57.76)
Rs.850 ($18.13)
Rs.2,900 ($61.86)











Ask our Experts :
Expert Advice, Personality, Immigration (US), Tarot, Hot Couture, Body Care, Matrimonial Laws, Sexual Health, Life, etc, Man vs Woman, Fitness.