Understanding stress


Dr. Tushar Guha
Is the Founder Managing Director of Nrityanjali - the Institute of Performing Arts, Education, Personality Development and Management Services. He is also a practicing Psychologist, Counsellor, Educationist & Corporate Trainer. Have a question? Click here...
Life is full of stress. Understanding stress and its attributes is the first step to managing it. Stress is physical and mental fatigue. Extension beyond physical capacity results in stress. Mental fatigue is also a prime factor for stress. Mental fatigue increases, if the work is monotonous and stops bringing joy and satisfaction.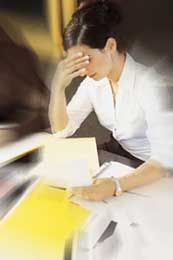 Kinds of stress:

Family Stress - Perception Of Self.
Human beings are social, rational and emotional beings. Emotional baggage is the greatest of all stresses. One's mental state depends on how well one is in a position to handle personal relationships and therefore, understanding self through one's emotions and human relations is necessary.

Physical Stress: The Physique
There is a limit to the endurance level that an individual's physique can handle.

The understanding of one's physical capacity is important in the elimination of this stress.

Professional Stress - Perception Of Others
The demands of one's profession are ever increasing and the desire to reach the apex of the pyramid is driving factors for most professionals today. An ever-increasing thirst for more is the norm of the day, causing pressure on both faculties - mental and physical.

Handling Of Stress
Each individual member of the family needs to understand and appreciate his/her role vis-a-vis the rest of the family. The man of the house is not only the earning member but is the husband to his wife, son to his mother, brother to his siblings, father to his children, master to his servants. Therefore, it is pertinent to understand the equation between himself and each of his counterparts in the specific relationships. If every relationship is handled individually and independently, in terms of emotional intelligence, then the factors that develop stress are nullified in the first place

Physical stress can be controlled and managed when one realises one's physical capacity to withstand excessive hours of work. Derive joy and happiness from work. With creativity, monotony of a job can be reduced. Adjusting to odd hours of work, like night shifts, needs discipline to get the body attuned. Correct eating habits and proper exercises, help in overcoming physical fatigue.

In illness it is important to beautify self physically, to enhance one's mental state. It helps to regain lost spirits. Through continuous and regular activity habit, one is able to derive joy and maintain physical fitness.

Professional stress also revolves round understanding of self. If one is not happy at home one cannot give his/her best to the profession. The main purpose of profession is earning for one's family and self. But over work widens the gap with the family and brings emotional stress, which is a vicious circle. Devoting 12-14 hours a day to one's work is eating into family time. It is important to strike a balance and not get subjugated by the demands of work. People at the helm of affairs in any organization need to focus on this factor. Long working hours not only reduce productivity but also increase stress levels. Every professional has to remember that he/she is a spouse, parent, ward or offspring of someone and this realisation helps one realize the same need of another.













Ask our Experts :
Expert Advice, Personality, Immigration (US), Tarot, Hot Couture, Body Care, Matrimonial Laws, Sexual Health, Life, etc, Man vs Woman, Fitness.

Copyright © 2023 Shaaditimes.com - A relationship and wedding portal by Shaadi.com. - All Rights Reserved.
Terms and Conditions