The right life partner


Dr. Tushar Guha
Is the Founder Managing Director of Nrityanjali - the Institute of Performing Arts, Education, Personality Development and Management Services. He is also a practicing Psychologist, Counsellor, Educationist & Corporate Trainer. Have a question? Click here...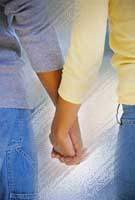 Marriage is for keeps - a relationship of a lifetime - this is the philosophy of life. Indeed it is and rather it should be. The reason is obvious. A good marriage will be a good platform for sound upbringing of children. This in turn will give society balanced and objective people, which will enhance the quality of life.

Marriage primarily involves two individuals and at the backdrop is the family. It is therefore crucial that the two individuals involved in the process of marriage match each other. We are dealing with arranged marriages - be it through relatives, pandits, newspapers or Internet.


It is important to understand that no marriage is or can be ideal. No two individuals can be alike. Therefore differences in thought, attitude, approach, communication - in every sphere, will remain. We need to accept this reality. Marriage is beautiful, marriage is horrible, marriage is fantastic, marriage is terrible, marriage is contentment, marriage is awful - but Marriage is Understanding, Marriage is Respect, Marriage is Love, Care and Share whatever we have. Therefore marriage is a challenge. This concept of marriage needs to be understood.

However, a word of caution: One might take utmost care yet it need not end in meeting the ideal spouse. Marriage is a gamble and one has to make it work.

Even before, an individual sets out to search for the right partner, he / she needs to understand Self.
Do I want to get married?
Why?
Do I need a companion?
Do I need children?
Do I need a support?
Am I ready for marriage? - Mentally, economically, physically and emotionally?
Am I marrying because my family wants me to?
Am I getting married because all my friends are married or it is getting late now?

Honest answers to self on the above will provide the individual with the right focus. The individual priorities will have to be set right. Only when the individual is clear to self, should the procedure of getting married begin.

The two areas on which one must focus in marriage are:

Individual compatibility
Family of the two individuals.

Both are very closely inter-related. The development of an individual depends a lot on the family and the kind of upbringing and grooming one has had.













Ask our Experts :
Expert Advice, Personality, Immigration (US), Tarot, Hot Couture, Body Care, Matrimonial Laws, Sexual Health, Life, etc, Man vs Woman, Fitness.

Copyright © 2023 Shaaditimes.com - A relationship and wedding portal by Shaadi.com. - All Rights Reserved.
Terms and Conditions