Power of meditation in a relationship


Dr. Tushar Guha
Is the Founder Managing Director of Nrityanjali - the Institute of Performing Arts, Education, Personality Development and Management Services. He is also a practicing Psychologist, Counsellor, Educationist & Corporate Trainer. Have a question? Click here...
Every relationship needs understanding and respect. Every relationship has to be nurtured and cherished. Building a relationship and continuing one, needs time and perseverance. But both, time and perseverance will have to be backed by the individual's inner strength and capacity to convey and express.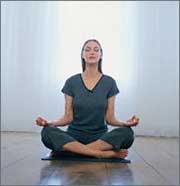 However, communication is at its best only when one is in full control of self. Self has mind and body and the mind is reflected through the various actions of the individuals. Of utmost importance therefore in any relationship is to be able to identify Self, to be calm, to be true to self. This however, involves a process - the process of Meditation. Meditation is not religion but a science that enhances self-understanding, self control and enables effective inter personal communication and relationships. Let us therefore understand what meditation is.


Meditation is the process of knowing our mind. Through meditation we are away from the mundane activities of life. Our surroundings, outlook, turn broader. We are far more accommodative, understanding and acceptable.

We become calm, disciplined, independent and decisive. The process of crystallisation of thoughts begins. Our concentration, reasoning power improves, attitude becomes optimistic, and behaviour becomes pleasant. We discover a number of qualities, to which even we were strangers - this raises us, in our own self-esteem.

Meditation induces psycho-physical rest, power of refreshment that is in many ways superior to that of sleep. It relaxes the body and mind, increases the capacity to cope with stressful situations.

Requirements for meditation:
Quiet place

Comfortable clothing

Empty one's bladder and bowels

Morning 15-20 minutes

Preferably in groups, in initial stages

There are different methods of meditation:

Being with self, being ALONE - lying down and looking at the ceiling, out of the window, long walks alone.

Loving inanimate objects - chairs, tables etc, - being with them, talking to them. It is enjoying the individual existence. These help in calming the mind. Initially, a number of thoughts disturb but gradually calmness sets in. There is total blankness equivalent to a trance. These are all forms of meditation.

Count method
Counts are given and sanskrit slokas sung. This method helps in becoming self-reliant.
Life is full of rhythm - from laughing to cutting vegetables etc. Rhythm, is natural, inborn. Count system has rhythm. It is done in three stages over 16 days.

Stage one
Eyes closed, sit comfortably, inhale for 8 counts and exhale for 8 counts. If one cannot match the breathing with the counts, does not matter - be comfortable. This process continues for 5 minutes, increasing progressively, every day, for 4 days.
Initially, one will have cramps etc and various thoughts. Write down the thoughts every day and read the same. From the 4th day, the discomforts of body and thoughts will diminish. This is the elimination process.













Ask our Experts :
Expert Advice, Personality, Immigration (US), Tarot, Hot Couture, Body Care, Matrimonial Laws, Sexual Health, Life, etc, Man vs Woman, Fitness.

Copyright © 2023 Shaaditimes.com - A relationship and wedding portal by Shaadi.com. - All Rights Reserved.
Terms and Conditions