Groom Up!


Dr. Tushar Guha
Is the Founder Managing Director of Nrityanjali - the Institute of Performing Arts, Education, Personality Development and Management Services. He is also a practicing Psychologist, Counsellor, Educationist & Corporate Trainer. Have a question? Click here...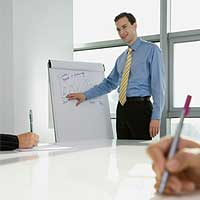 10 ways to a better you. Quick tips on how to enhance your personality to make you more attractive to the opposite sex - both physically and mentally

Developing an impressive and attractive personality is a complex and continuous process. In any relation (temporary or permanent) one must realise that one cannot take the other for granted and neither underestimate the other. This stands true even for attracting the opposite sex.

It is therefore imperative that one has to cultivate SELF both from within and outside, simultaneously. Within includes attitude, thoughts, opinions, feelings, intelligence, knowledge, appreciation, and wit. Outside includes mannerism, behaviour, cleanliness, communication skills, gait, poise, and style and dress sense.


The above strengths do not get cultivated at the press of a button. It could be natural through upbringing, grooming, family and environment for the lucky early starters. It could be a conscious effort and determination for the others. However certain pointers could always be kept in mind, which will provide an edge to the individual. Yet one must remember, that one has to accept and cultivate such pointers from within (may be gradually), as being phoney will not sustain for long and will boomerang.

General Pointers:

Physical -
Be Healthy and clean; smell well.
Dress well befitting the occasion. Choose clothes that suit your physique.
Check on your walking style, standing & sitting postures.
Intellectual -
Read well - newspapers, magazines of all sorts, other good books.
Be aware of the happenings around - social, cultural, political, economical.
Be understanding and balanced - this will get across to people.
Develop Communication Skills
Behavioural -
Check on your manners, courtesies - politeness.
Your style of speaking. Be a good listener and less critical.
Have a smiling and pleasant face.

Specific Pointers when you meet:
General - Do some homework on your partner - interests, hobbies, background of family, education, and profession. If you are not connected or aware of any specifics of your partner then educate and upgrade yourself about the same. Have a sense of humour, observation that could lead to interesting conversation. Above all respect the individual and be Genuine.

Male - Do not underestimate the lady or consider her as inferior. Give her a patient hearing, appreciate and understand. If you do not like something, be polite and gently explain your point of view. Be stylised, manly, poised and decent - treat the lady like a lady. Do appreciate her profession, hobbies and interests including friends and family. Be witty. Do not speak only about your self and profession. Do not jump to conclusions.

Female - Appreciate the man- his achievements, the way he is, his family and friends. Do not be critical. Do speak about your likes and dislikes but do not overdo it. Do not crib or nag or be fussy. Try and share interest. Be witty and be feminine.


Digital Thermometer
Desktop Ultrasonic Nebulizer
Wockhardt Cardiac Health Check
Rs.950 ($20.26)
Rs.6,990 ($149.10)
Rs.7,210 ($153.80)
Rs.850 ($18.13)
Rs.6,600 ($140.78)
Rs.2,708 ($57.76)











Ask our Experts :
Expert Advice, Personality, Immigration (US), Tarot, Hot Couture, Body Care, Matrimonial Laws, Sexual Health, Life, etc, Man vs Woman, Fitness.