How to be an effective communicator


Dr. Tushar Guha
Is the Founder Managing Director of Nrityanjali - the Institute of Performing Arts, Education, Personality Development and Management Services. He is also a practicing Psychologist, Counsellor, Educationist & Corporate Trainer. Have a question? Click here...
Human beings are social animals apart from being primarily rational animals. The latter distinguishes us from other animals as we are able to think and reason. The former is our basic instinct to love, care and share. That is why, we have family, friends and associations.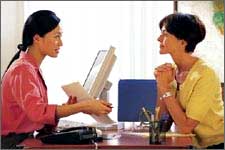 However, the capability to reason, is reflected through our interactions with others - to our family, friend or association. The effectiveness of this interaction, makes or mars our relationship, which we cherish. This interaction, backed by the reasoning power is communication i.e. exchange of views, interaction with one to one or one to many.


The word communication has a large connotation. Getting across to others, getting the job done, conveying one's self and finally having a sense of satisfaction - together make communication effective. The effectiveness of communication depends primarily on 'HOW to communicate' than 'WHAT to communicate'. The How makes a world of difference.

Communication has various modes and is distinctly divided in two categories - verbal and non-verbal. Non-verbal communication includes all facets other than speaking and hearing. Today increasingly it is being felt that understanding of the non-verbal elements of communication -- expressions, body language etc play a very significant role in communication. However, the primary communication of speaking and hearing i.e. the verbal communication still forms the basis of communication and will remain so.

Naturally, therefore, to be an effective communicator, one has to muster the art of speaking and the art of hearing. Both these elements of verbal communication need to be supported by other hidden elements.
Understand the need of the other person.
Understand the capacity of the other person.
Understand the emotional level of the other person.
Understand the relationship of the other person.

Taking a look at the above four elements, takes us to another area, which is of self-introspection.
Understanding the need of Self.
Understand the capacity of Self.
Understand the emotional level of Self.
Understand the relationship with the other person.

Growing from self, then leading to understand others, will have to be polished with techniques of the two significant arts - Speaking and Hearing.

Speaking and hearing are both active activities. No one is born dumb, but is born deaf. It is because one cannot hear that one cannot speak. The skill of listening, therefore, is to be addressed.
Be calm and listen carefully to what is being told and not 'what we think is being told'.
Only then, do we understand the spirit of what is told and then able to act rightly. Most often, we hear what we want to hear (have preconceived notion / mind set) and not what is told. Obviously then, we understand what we wanted to understand as per our mindset. And, finally our actions are in keeping with what we thought we understood or communicated to us. All these are wrong because of a single error of not listening carefully.











Ask our Experts :
Expert Advice, Personality, Immigration (US), Tarot, Hot Couture, Body Care, Matrimonial Laws, Sexual Health, Life, etc, Man vs Woman, Fitness.

Copyright © 2023 Shaaditimes.com - A relationship and wedding portal by Shaadi.com. - All Rights Reserved.
Terms and Conditions