Colour moves
The effective use of colour


Dr. Tushar Guha
Is the Founder Managing Director of Nrityanjali - the Institute of Performing Arts, Education, Personality Development and Management Services. He is also a practicing Psychologist, Counsellor, Educationist & Corporate Trainer. Have a question? Click here...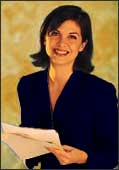 Colour theory and how we each have a natural undertone to our skin, and that using the proper clothes colours can enhance or detract one's career is covered below. When you're building a wardrobe for your career, it's important to consider your business image when making all your clothing selections.

Certain colours carry more strength and power, and should be used when you have a job, or a meeting, that requires this image. A typical airline pilot wears a dark navy or black uniform. These are powerful colours and give a visual clue to the authority that a pilot has. Strong colours that give the look of power and a "take charge" attitude are black, navy, and red. All three colours may be useful additions to your wardrobe. The darker or deeper the colour, the higher on the authority scale. Dark navy is more powerful than a mid-range navy. And black can be tricky. All black can be too somber and severe for most daytime wear, unless you're in an artistic field. And the colour red is so strong that usually only a touch is needed in business. Think of a man's red tie, or lady's red blouse. Charcoal grey is a slightly less powerful colour, but very distinguished and professional. The deeper the shade, the stronger the impact.



In some cases you'll find your most flattering colours also serve the same requirements you have for your job. In other cases, you'll need to select certain colours for the job and use more flattering colours for your social and personal life. Many times just a subtle change of a colour shade can give you the best look, and also give you the professional image you need.

If you have an important meeting in which you'll be giving information, wearing a powerful colour will subconsciously reinforce the strength of your company - since you are the company's representative at the meeting.

Your natural skin tone may balance strong colours so they become very good looking on you. Or, if you need to wear a strong colour that overpowers your natural colouring, be aware of the strength of your image, and don't shrink from your responsibility to represent your idea or your company.


Wockhardt Senior Citizen Check
Wockhardt Cardiac Health Check
Citizen Digital Blood Pressure Monitor
Rs.6,040 ($128.84)
Rs.7,210 ($153.80)
Rs.2,950 ($62.93)
Rs.2,031 ($43.32)
Rs.2,708 ($57.76)
Rs.2,150 ($45.86)











Ask our Experts :
Expert Advice, Personality, Immigration (US), Tarot, Hot Couture, Body Care, Matrimonial Laws, Sexual Health, Life, etc, Man vs Woman, Fitness.