Believe in God but don't depend on Him


Dr. Tushar Guha
Is the Founder Managing Director of Nrityanjali - the Institute of Performing Arts, Education, Personality Development and Management Services. He is also a practicing Psychologist, Counsellor, Educationist & Corporate Trainer. Have a question? Click here...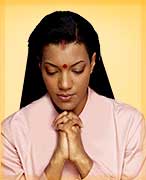 Every relation must have clarity and it is important that each relationship has a base. Clarity emerges from the foundation of relationships. Foundation of our relationship is based on number of factors - the upbringing, family traditions, culture, religion and spirituality. Among all these the latter two - religion and spirituality play very subtle, indirect but the most significant role. It is imperative, therefore, for developing and continuing a sound relationship, one understands the concept of religion and spirituality.


It has always happened, that when in crisis, even the so-called atheists, were compelled to think of God. One always tries to fall back on God through his faith and religion and derive courage. In the process, people tend to become too dependent on the super-natural powers and develop blind faith that defies logic and reasoning. Gradually, one develops fear and dependency on God.

It is here, that I strongly believe that we falter and the basis of the relationship becomes weak. We need to understand the concept of God, spirituality and religion. And the place, all these three hold in life.

Life commences with belief. Belief in God, in parents, family and in the world at large. During the growth process, this belief strengthens into spirit - spirit to love and be loved. Religion, traditions and rituals, give different dimensions and direction to this belief, spirit and love.

Birth indicates existence and existence has to evolve as living. Living is believing and faith - faith in each of our relationships, in nature and in the super natural being which is personified as God. God is goodness, God is love, God is compassion and therefore, the pathway to God should also be simple, good and loving. This is spirituality. Spirituality relates to the spirit, deriving out of the belief, culminating into understanding and compassion. Religion is only one of the modes to reach this goal of compassion.

Religion and spirituality are not to be confused. Let us use religion to be spiritual, ie, be understanding and compassionate but not being taken for granted. Let not religion come in the way of our logic in our relationship - do not have superstitions that if some one falls ill after the birth of a child, the birth time of the child is bad and responsible or constantly have fear. This will lead to a negative influence on the child and his upbringing.

A case in reference - a child was born on the new moon day (amavasya). It was accepted that nothing good could happen of the child. The father often declared the same. The child developed a negative attitude towards the father and felt no one loved him. The child happened to be at our institute from the time he was 8 years old. With appreciation and care from us, today he is a fine young man, well settled and taking care of his parents and is an ideal example in society. The father now is proud of him and ofcourse gives credit to our institute. Amavasya could not ruin him. Therefore let us be rightly religious to be spiritual.

Human nature gravitates towards dependency, which ultimately leads to insecurity and fear of having to lose this very dependency. Gradually, we cease to be independent even in our thoughts and feelings. This cocoon of dependence, weakens the human being and the strength of the mind i.e. is the WILL to live. We need to live while living and not merely exist. This WILL becomes firm and strong with the knowledge of being able to love Self completely and as a whole, encompassing the positives and the negatives.

Knowing Self - in body, mind and soul and growing from I to WE i.e. giving up Self and finding Self in others, leads to accepting a person as he is and not as we want him to be. Each human being is made of body, mind and soul. Soul is equated to God. There is no higher God or lesser God. So is the soul. No one is superior or inferior to others. We happen to be senior or junior by virtue of being born earlier or later.

Belief is natural. It is not our weakness but our strength, which makes an individual self reliant in thought and feeling. Let us learn to love God and not fear him. Let us communicate with him as equals. He lives in me and I live in Him.

This identification makes an individual strong and thereby the relationship and the family strong and acceptable. In other words, the strength of mind grows and we have more clarity and are objective to live with understanding and joy.


Wockhardt Senior Citizen Check
Citizen Ultrasonic Nebulizer
Citizen Digital Blood Pressure Monitor
Rs.6,040 ($128.84)
Rs.4,200 ($89.59)
Rs.2,950 ($62.93)
Rs.2,031 ($43.32)
Rs.2,800 ($59.73)
Rs.2,150 ($45.86)











Ask our Experts :
Expert Advice, Personality, Immigration (US), Tarot, Hot Couture, Body Care, Matrimonial Laws, Sexual Health, Life, etc, Man vs Woman, Fitness.