A different kind of snow-flake this winter
A must-read for all aged 15- 45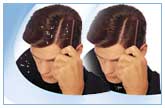 Have you noticed the number of ads claiming to have a cure for dandruff? Going from dandruff-ridden to dandruff-free seems to have wrought an almost miraculous transformation. While these ads might be a slight exaggeration, the fact that there are so many of them around tells us that there are a large number of people who suffer from dandruff. And with winter setting in, those of you who do suffer from dandruff might be in for a rough time.


Though we do not have access to statistical information, a recent survey shows that 75 per cent of clients visiting pharmacies, beauty salons, and barber shops are plagued with this scalp condition. The rate of dandruff is higher in men than in women and is proven to be seasonal. It is most severe in winter and mildest in the summer. Persons between 15 and 45 years of age seem to be the most severely and frequently affected. Also we do see many patients with dandruff. This is probably because the condition is often ignored until it becomes extremely severe and proves to be embarrassing.


What is dandruff?
Dandruff is basically a scalp problem that is identified as excessive flaking of dead tissue. A person's body continuously sheds dead skin cells. Certain factors cause the sebaceous glands in the scalp, which secrete sebum or oil, to malfunction. This causes the natural shedding process to be exaggerated, resulting in excessive flaking.

Dandruff need not always be characterised by dry scales and dry hair. In fact, this is only the first stage of dandruff which, if neglected, can worsen. Initially, dandruff starts off as a minor irritation which is often ignored. For some people, the condition remains at this stage throughout their lives. Often, however, when the condition is ignored, the scalp reacts to the scruff by secreting a fluid, which causes the scales to stick to the scalp. At this stage, the flakes have a yellow, waxy appearance. At its worst, this condition spreads to the adjacent areas of the head and to the front of the chest and the back as well.

What causes it?
Causes can be divided into two sections


Internal Causes
External Causes
hormonal imbalance

poor health

poor hygiene

allergic hypersensitive

lack of rest

emotional stress

excessive consumption of sugar, fat, starch

improper nutrition

heredity predisposition

excessive use of hair sprays and gels

improper use of hair-colouring products or excessive use of hot hair curlers or curling irons

cold weather and dry indoor heating

stress and anxiety.

infrequent shampooing of the hair or inadequate rinsing of the scalp and hair.


Dandruff and fungus:
Today most specialists agree that dandruff is associated with a tiny fungus called Pityrosporum ovale, or P. ovale for short. This fungus lives on our bodies and scalp all the time, usually without causing a problem. Unfortunately, for some people, it can get out of control... leading to dandruff.

Treatment
The heartening news is that a common problem like dandruff can be quite simply treated if caught early. It would be advisable to wash one's hair with a good anti-dandruff shampoo twice a week and with a scalp cleanser once a week. Daily wash with a scalp cleanser is also advisable. Remember, there is no cure for dandruff, only control of dandruff. However, if you find that the problem is persistent, you might need to consult a trichologist.

Dr. Sonal and Apoorva Shah
Wockhardt Cardiac Health Check
Digital Wrist Bp Monitor
Child Health Check
Rs.7,210 ($153.80)
Rs.4,500 ($95.99)
Rs.2,708 ($57.76)
Rs.3,999 ($85.30)
Rs.1,100 ($23.46)











Ask our Experts :
Expert Advice, Personality, Immigration (US), Tarot, Hot Couture, Body Care, Matrimonial Laws, Sexual Health, Life, etc, Man vs Woman, Fitness.