5 ways to cozy up to your hair this winter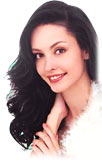 Dry skin? Chapped lips? Static in your clothes? Welcome to winter. Yes, while the winter means Christmas trees and cuddling around in our woollies, it also wreaks havoc on our skin and means we have to really lay on the lotion. But while most of us tend to pay attention to our skin in winter, what about our hair?

The cold air of winter is more drying and less humid and therefore more abusive than other times of the year. Indoor heating devices create a dryer climate as well. As we spend less time in the sun, the natural highlights nature paints into our hair become less noticeable and hair loses its healthy shimmering look.

Here are a few tips to keep your hair in shape in the winter.

Washing
In general, hair requires only a limited amount of washing, just enough to cleanse your hair of dirt. In winter you should be extra careful so that your natural hair oils are not depleted due to excessive washing.

Moisturise
Add moisture to your hair.
A teaspoonful of almond oil mixed with a teaspoonful of amla juice, massaged over scalp, will help those growing their hair. While amla prevents dandruff, almond will help thicken the hair and prevents premature graying. Also, almond oil is not greasy or sticky and so is a friendly massage tool.

Conditioning
Your hair will need lots of tender loving care in the dry season. One way is to condition it adequately. This means taking grandma's advise and oiling it twice a week, especially if you are naturally prone to dry hair. Always try to leave the oil overnight and wash off the next day.

Curly hair tends to be drier than straight hair and needs special attention in winter to prevent frizziness and split ends. If you have curly hair, don't rinse out all your conditioner, or reapply a very light coat after towel-drying.

Even if you have oily hair, you should apply a conditioner to the ends to help keep hair healthy and prevent frizziness and fly aways. Remember hair oil is the only hair and scalp conditioner in the world.


Reduce static
Hair static is caused by a lack of hair moisture. Brush with natural and not plastic bristles. Or you could get a sheet of fabric softener and wipe across your hair. It helps control frizz too.

Water intake
Drink enough water. You get minerals from water and mineral deficiency caused by lack of water intake is by far the most common cause of hair loss.

Last but not least, do not forget your trichologist, who is there to help you with all your hair woes. If you find that your hair looks especially shabby, do not hesitate to make an appointment before your problem goes beyond mere seasonal blues.


Dr. Sonal and Apoorva Shah
Child Health Check
Master Health check
Citizen Digital Blood Pressure Monitor
Rs.7,280 ($155.29)
Rs.2,950 ($62.93)
Rs.1,100 ($23.46)
Rs.3,159 ($67.38)
Rs.2,150 ($45.86)











Ask our Experts :
Expert Advice, Personality, Immigration (US), Tarot, Hot Couture, Body Care, Matrimonial Laws, Sexual Health, Life, etc, Man vs Woman, Fitness.