Take The Frazz, Not The Life Out Of Your Hair!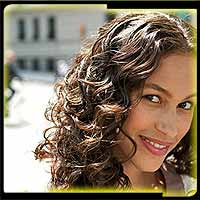 Life for a newly wed bride may be quite a hair-raising experience, what with all the new experiences she has to adjust to. Now imagine having to manage frazzled hair on top of that!

Well - if you're planning to tie the knot just before or during or after this monsoon, run through these suggestions to get those unruly strands under control. Else like Monica in the Friends episode in Barbados, you may end up turning heads wherever you go, for all the wrong reasons!

Tame the frizz


First things first. Does your hair always veer towards the frazzled look? If so, you may have a mistaken identity as far as those locks are concerned. As long as you desire poker straight hair, you'll knowingly or unknowingly keep brushing out your natural waves. Obviously then your hair will look frizzy. Instead, accept your natural wavy or part straight part wavy mane. Wear your hair wavy.

However, if your hair simply tends to look frizzy during the onset of the rainy season (read humid conditions), here are a few tricks to straighten out your sad-looking strands.


Fortify your hair with a moisture-repelling product before or after styling. These products, which include anti-humidity pomades for coarser hair and smoothing fluids for finer manes, also add shine to your locks as well as smooth and condition the hair. However, as some shine enhancing products contain silicone and can work adversely in the long-run, it is best to ask your hair stylist to suggest a locally available product that would best suit your hair.

While you're at your hair stylist, you may also want him/her to examine your locks to ascertain the reason for your frizz. Sometimes, frazzled hair is an outcome of a raised cuticle, implying an uneven less-than-healthy surface of the hair shaft. If this is true in your case too, your hair stylist may suggest a hair oil or cream to add some weight to and thus close the cuticle, as well as impart a smoother appearance. A shot of cold air directed at a raised cuticle is another useful treatment for frizz.

Any straightening product would also help frizzy hair because it will smoothen the curl besides make it a little heavier and hence less likely to fly.

Avoid blow-drying your hair during the monsoons. Instead, use an alcohol-free texturizing spray and allow your hair to air-dry and set as its falls, or braid it while still wet for an enhanced wavy look.

Apply a deep conditioning hair repair serum once a week and leave it on overnight. As this replenishes hair moisture, it is useful to repair hair damaged due to malnourishment or lack of moisture.

Speaking of moisture, ensure you drink enough fluids and water. Yes - it'll make a difference to your hair too!

Also, cover your head to protect your hair from sun-damage, fading and further loss of moisture. Scarves can look chic - get a few fancy ones to accessorize your daywear outfits.

Hot showers dry out your hair and fade hair colour. Get accustomed to using luke warm water instead.

Again, shampoos also strip hair of its natural protective oils and moisture. Shampoo less often, or use a milder product.

If your hair is prone to split ends and frizz, get real. Stop dreaming of long tresses! Get your hair trimmed regularly, say, every six to eight weeks.

However, if you're blessed with long hair that turns frizzy only when the weather turns hot and humid, learn to do a chignon. Besides keep you cool, this will take the focus away from your frazzled hair and instead give you a sleek look. A win-win situation, wouldn't you say?
Charu Bahri
Wockhardt Cardiac Health Check
Child Health Check
Citizen Ultrasonic Nebulizer
Rs.7,210 ($153.80)
Rs.4,200 ($89.59)
Rs.2,708 ($57.76)
Rs.1,100 ($23.46)
Rs.2,800 ($59.73)











Ask our Experts :
Expert Advice, Personality, Immigration (US), Tarot, Hot Couture, Body Care, Matrimonial Laws, Sexual Health, Life, etc, Man vs Woman, Fitness.