Getting Married?
Lose 5 kilos in 5 days with a high protein diet!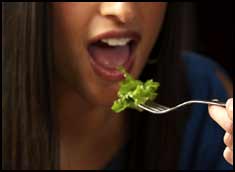 What do celebrities Janet Jackson, Jennifer Aniston and Jessica Alba have in common with more than 30 million people worldwide?

A preference for following a particular diet.

That's right! It is entirely possible to lose as much as 5 kilos in a mere 5 days by eating a high protein and low carbohydrate diet. But is it healthy? Read on to know whether a high protein diet can in fact help you to lose weight in a healthy manner or not.



Weight Loss: The Atkins Way

Dr. Atkins is the person who first created the high protein - low carb diet, which is why such a diet plan is also known as the Atkin's Diet.

The Atkins Diet advocates eating foods that have a high percentage of protein and fat, and avoiding those foods that have high carbohydrate content. According to Dr. Atkins, eating carbohydrates gives your body an immediate sugar boost. Some of this sugar is converted into energy and used as fuel by the body. However, since a typical diet consists of too many carbohydrates, there is excess sugar floating in your blood stream, which eventually gets converted into fat!

Thus, when you eat a high protein and low carbohydrate diet, your body does not get enough sugar from the carbohydrates to use as fuel. It then turns towards the fat stores in your body, converts this fat into fuel, thus causing you to lose weight.

In theory, this diet sounds quite believable, and practically too the Atkins diet does work. However, in addition to high protein foods, the Atkins diet also allows you to eat high amounts of fat with your protein. Cream, full fat butter, eggs with the yolks and red meat such as steak and lamb, are all allowed in unlimited portions in a high protein diet.

A diet that actually allows you to eat all these food stuffs and that too in unlimited quantities - now that doesn't sound quite right, does it? This is where nutritionists and dieticians all over the world debate about the success of the Atkins diet. While they do concede that such a diet plan helps you to lose weight and that too quite fast, they are also of the belief that it is not a healthy way to lose weight.

Here are some facts and concerns about a high protein diet that will help you to make your decision:
Fact: A high protein diet can help you to lose weight.
Fact: Depending on individual weight and body fat percentage, it is possible to lose more than 5 kilos in the first week of a high protein diet.
Fact: A high protein diet can be extremely beneficial to body builders as it helps to build lean muscle mass quickly and provide added strength.
Concern: Most of the weight loss is due to loss of water and not so much loss of fat.
Concern: A high protein diet puts you at added risk for renal disease (this concern is however limited to those people who have an existing kidney problem).
Concern: Such a diet can cause levels of calcium to drop, which in turn can result in bone loss and arthritis.
Concern: Fatigue, constipation and bad body odour are possible side effects of a high protein diet.

The fact that the diet works is apparent from its obvious popularity - amongst celebs and the common man. Whether it works for you is something you have to decide. However, it may certainly be worth your while to keep at it for a few weeks, especially if you're trying to lose weight for your wedding or some special occasion.


Ruchi Agarwal
Digital Upperarm Bp Monitor
Digital Blood Pressure Monitor
Child Health Check
Rs.6,500 ($138.65)
Rs.4,500 ($95.99)
Rs.5,999 ($127.97)
Rs.3,800 ($81.06)
Rs.1,100 ($23.46)











Ask our Experts :
Expert Advice, Personality, Immigration (US), Tarot, Hot Couture, Body Care, Matrimonial Laws, Sexual Health, Life, etc, Man vs Woman, Fitness.