What is Thermage?


Dr. Jamuna Pai
Leading cosmetologist who runs her own cosmetic clinics in Mumbai.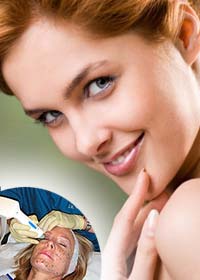 Thermage is a non-surgical face-lift, which improves skin tone and texture while effectively smoothing, tightening and contouring skin for overall naturally younger looking appearance.

Thermage is a safe, clinically proven way to tighten and contour skin, with improvements in tone, contour, and texture occurring naturally through the stimulation of your own collagen.

It is completely non-invasive - no surgery, no injections. A single treatment tightens your existing collagen and stimulates new collagen growth. Improvements are both - immediately visible and continue up to six months. Results can last for years depending on your skin condition and aging process.


The procedure itself is normally done as a single treatment that takes from 20 minutes to two hours depending on the treatment area. What's more, there is no downtime, so you can quickly resume your normal routine. Thermage works on all skin types and tones. Thermage works on your entire face - forehead, eyes, nasolabial folds, jaw line, jowls and the area under your chin.

If you no longer recognize the face looking back at you in the mirror, it's time to talk to a certified Thermage physician and learn how Thermage can help you look as young as you feel. Take a quick look at how Thermage compares to other treatment options. Thermage is the only one that rejuvenates the collagen deep in your skin, with none of the negative aspects of other treatments.

Indications:

Face-redefines, contours jaw line.
Improves texture and tone of entire face.
Eyes-softens fine lines and crows feet.
Smoothes and tightens skin on the eyelids and eye area.
Arms-reduces creepiness.
Tightens loose, sagging skin.
Hands-smoothes wrinkles.
Contra-indications:
Pregnancy.
Patients with pacemakers or defibrillators.
Patients on accutane treatment.
Cannot be performed on sites with silicone implants, fat injections or fillers.
Risks and Complications:
Blistering, swelling, superficial burns and infection.
Temporary lumpiness, tenderness and altered sensation.
Herpes Simplex virus reactivation.
Advantages:
Single treatment benefits.
No downtime.
Works on all skin types and colours.
Digital Wrist Bp Monitor
Citizen Ultrasonic Nebulizer
Child Health Check
Rs.4,500 ($95.99)
Rs.4,200 ($89.59)
Rs.3,999 ($85.30)
Rs.2,800 ($59.73)
Rs.1,100 ($23.46)











Ask our Experts :
Expert Advice, Personality, Immigration (US), Tarot, Hot Couture, Body Care, Matrimonial Laws, Sexual Health, Life, etc, Man vs Woman, Fitness.