Look cool to feel cool
Beauty tips to beat the heat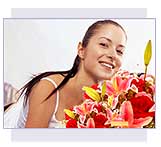 This summer don't let the unbearable heat wreak havoc on you. ShaadiTimes tells you exactly what you need to do to look cool and feel cool.
Here are a few Summer Beauty Tips:
Diet
Make sure that you are adequately hydrated - at least 8 glasses of water a day and even more when you are outside.
Have lots of fresh fruits and vegetables throughout the summer.

You should be getting plenty of anti-oxidants like vitamin C, which is found in citrus fruits.

Drink a glass of milk, morning and night.

Hair
Be sure to wash your hair every alternate day with a mild shampoo, and deep condition your hair at least once a week, especially if you swim a lot.
Be sure to wear sunscreen made especially for hair.

On breezy summer evenings, keep hair in place with a headband or barrettes.

Colour-treated hair will fade faster when exposed to the direct rays of the sun. Hats or head wraps are a must.

Skin
If you spend lot of time outside, be sure to use sunscreen with minimum SPF 15 before you go out. After applying sunscreen wait a couple of minutes and put your regular moisturiser on top.

If you are not so used to applying sunscreen, wear a hat or use an umbrella when you are out and completely exposed to the sun.
For sunburns make a homemade face mask with one egg-white mixed with a little honey and witch hazel.

The best known aid for sunburn is to apply aloe vera or lotions containing it. Cream containing zinc, if applied on face at night, heals the burn by the morning.

Your eyes are delicate and can start to develop fine lines and wrinkles due to exposure to lot of sunlight. Dab eye cream lightly under your eyes and smooth out towards the sides of your face.

Make up
The best tip for summer makeup is - stick to minimal.

For all those who wear make-up everyday, please avoid heavy foundation. Instead just accentuate your skin by brushing on a light shimmering powder on your eyelids, above cheekbones, on shoulders and collarbone.

If you wear mascara, try a waterproof. This way you will avoid raccoon eye when you are perspiring.
Soft eye lining, using kohl pencils, is ideal for summer days.

For eye shadow the best colours for summer are warm shades like bronze or coral.

Keep lips protected and moisturised. Use a lip balm that has an SPF and consider switching to a moisture-rich lipstick, neutral shades are the best for this season. In fact just a lip gloss would be the best for summer.

Sabina S Mary
Digital Thermometer
Child Health Check
Obesity Package
Rs.950 ($20.26)
Rs.7,880 ($168.09)
Rs.850 ($18.13)
Rs.1,100 ($23.46)
Rs.5,246 ($111.90)











Ask our Experts :
Expert Advice, Personality, Immigration (US), Tarot, Hot Couture, Body Care, Matrimonial Laws, Sexual Health, Life, etc, Man vs Woman, Fitness.