Beating Diabetes
Do Indian Weddings Contribute To This Disease?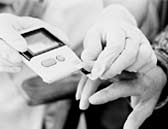 As of 2007, India ranks #1 as the country with the most diabetics. Now this is definitely one ranking that we could do without! What has changed over the years to increase the number of diabetes patients in our country? Is all the mithai and sweets that form a part of all Indian celebrations, right from festivals to weddings, to blame?

It is estimated that diabetes will result in about 3.8 million deaths globally in 2007. These statistics are similar to death from HIV and AIDS, yet we don't think of diabetes to be as serious a disease as AIDS. But the shocking truth is that it is! And what makes these statistics even more shocking is the fact that diabetes is easily preventable.


No Indian festival or wedding is complete without an array of sweets to tempt one and all. Not that we really need an excuse to consume mithai and many of us do eat sweets without any occasion. However, gorging on sweets is mainly limited to the festival season and weddings, which in turn adds to the number of people suffering from diabetes. It thus becomes vital to make our celebrations 'diabetes friendly' for a long and healthy life!

Preventing Diabetes: Make Your Wedding Diabetes Free
Here's what you can do to ensure that your wedding is not contributing to the sugar disease:
Use healthy oils: Contrary to popular belief, sugar is not the only enemy of diabetes. Saturated fats also increase insulin resistance and should thus be avoided. Ask the caterer to prepare your wedding feast in healthier mono-unsaturated oils such as sunflower oil. Olive oil is also great for diabetes prevention and tastes good too.
Sugar free sweets: Preparing sweets without using sugar go a long way towards prevention of diabetes. However, instead of using products like Sugar Free or Equal to make the sweets, ask the caterer to use natural sweeteners such as honey and fruits to sweeten the mithais.
Fruit fiesta: Offer a wide variety of fruits to your relatives and friends instead of more traditional wedding mithai. Fruits in the form of fruit cocktails, chaats, fruit salads and fresh fruit drinks not only provide you with a large variety of dishes to select from, but will also satisfy the sweet tooth of your friends and family in a healthier way.

So, the next time you have a wedding or any other celebration in your family, follow the above tips and ensure that it is a sweet and healthy one!

Traditional Ways To Prevent Diabetes
Here are some traditional ways in which you can prevent this deadly disease:
Eat a healthy and balanced diet. Increase your intake of fresh fruits, whole grains, nuts, fibre and raw vegetables.
Overweight people are more prone to diabetes than fit people. So, exercise regularly and maintain a healthy weight.
After the age of 40, get your blood glucose levels checked regularly. If there is a history of diabetes in your family, you may want to start your check ups after 30.
Ruchi Agarwal
Wockhardt Well Women Health check
Citizen Ultrasonic Nebulizer
Wockhardt Senior Citizen Check
Rs.5,500 ($117.32)
Rs.4,200 ($89.59)
Rs.6,040 ($128.84)
Rs.3,949 ($84.24)
Rs.2,800 ($59.73)
Rs.2,031 ($43.32)











Ask our Experts :
Expert Advice, Personality, Immigration (US), Tarot, Hot Couture, Body Care, Matrimonial Laws, Sexual Health, Life, etc, Man vs Woman, Fitness.