« continued from previous page


The north, south, east and west of gold...
Trends in gold jewellery designs seen across India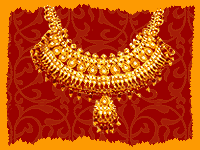 Eastern India:
Bengal still revels in the craftsmanship of its exquisite handcrafted jewellery. The two essential parts of gold forms in Bengal are wire-work and filigree, neither of which can be done by machine. The art of wire-work is said to be over five hundred years old, as is filigree. Floral, leafy or even abstract motifs are created with the malleable, ductile gold wire. In the Bengal gharana, flowers are inspired from Dopati and Kolke. There is also a hint of religion with the Kolke being blessed by Lord Shiva. The Takashi or filigree work of Maukhali of West Bengal depicts a strong Persian influence, probably because it was handed down from the Mughals.



A wonderful example of eastern Indian jewellery is in Bollywood's blockbuster 'Devdas'. Both ostentatious and resplendent, the film captures the antique gold jewellery look of the time. Highly ornate work with impeccable handcrafting techniques is the trademark of jewellery from this region.

Kolkata women still love their heavy gold jewellery in spite of the new contemporary designs, which are also gaining popularity. So the traditional Chik (choker), Chur (heavy broad bangles held together with bars, or the Ratanchur (bangle connected with the fingers with chains) still reign supreme.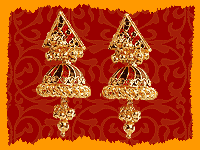 Western India:
What makes jewellery in Western India so unique is its diversity. Jewellery from Rajasthan, Maharashtra and Gujarat are markedly different from each other, but share their preference for using gold as the base metal.

Rajasthan: Jewellery from this arid desert region is an amalgam of traditional Rajasthani craftsmanship and the influx of Mughal culture, which brought in sophisticated know-how to the art of jewellery manufacturing.

Rajasthani jewellery includes the traditional bindi, which is worn in the center parting of the hair. Flower shape pins and hair combs are a strong part of traditional jewellery in Rajasthan. Earrings include a variety of jhumkas, and bangles are thick gold bands called kadas with the two end carved to resemble elephant of peacock heads.

Gujarat: Perhaps the most distinctive item of jewellery in Gujarat is the disc earrings worn by Kutchi women that stretch the ear almost to tearing point. In Gujarat, there are ornaments for practically every part of the body - necklaces, earrings, nose-rings, hair ornaments, bracelets, bangles, amulets, waistbands, anklets, finger and toe rings. Also back in style is Pachikam jewellery, which is traditional to the Kutch region. Pachikam is very fragile jewellery, and much more refined than kundan.

Designs remain nature-inspire, as it is considered auspicious to wear these types of designs.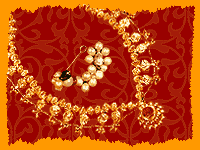 Maharashtra

: Maharashtrian jewellery has its most distinctive feature in the Nath (an emblem of marital felicity) or nose-ring in a paisley shape. The traditional heritage from the

Maratha

and the Peshwa still reign in the traditional jewellery influences.

Most jewellery is crafted from with excellent workmanship and delicate embossing work. And traditional necklaces are back in vogue; the

Hars

,

Mohanmalas

, and the gold-beaded

Tushi

have now become fashionably popular for the festive season.


Contemporary Jewellery
The Indian woman's love affair with jewellery does not end with India and traditional jewellery. An upcoming trend seen especially in the metros has been women drawing towards contemporary jewellery. These are young, fashion-conscious women who desire smart jewellery that can be accessorized with their wardrobe.


John Players Signature Line T-Shirt for Men
Spykar's Denim Jeans For Women
Applique Work Stripes Kurti
Rs.1,999 ($41.52)
Rs.1,380 ($28.67)
Rs.1,095 ($22.75)
Rs.1,899 ($39.45)
Rs.1,200 ($24.93)











Ask our Experts :
Expert Advice, Personality, Immigration (US), Tarot, Hot Couture, Body Care, Matrimonial Laws, Sexual Health, Life, etc, Man vs Woman, Fitness.