Skirt Prints in Vogue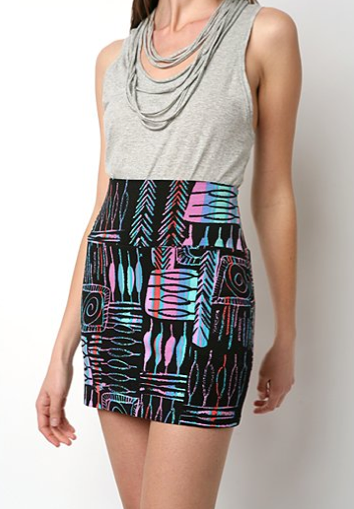 Printed skirts are the thing to sport this summer season. Right from the cute polka dots to the trendy tropical ones, prints come in an array of shapes, colours and sizes. But, let us tell you that it takes a bit of fashion sense to carry off printed skirts in style. If you wear a printed skirt with a top of a matching print, you'll look like a walking-talking fashion disaster, trust us! Too much colour and you're tagged as loud. So, here are some tips to follow when it comes to skirt fashion...

Floral, futuristic and geometric prints are in vogue this season. While flowers and paisley designs suit every body type, geometric patterns like checks and lines can make a woman look bulkier.
For office, select printed skirts with base colours like off-white, beige, black, sky blue, pale peach, etc. The designs can be bolder in yellow, orange, red, purple, etc. A pale yellow with orange prints when teamed with a beige shirt will make you look fresh, especially during summer.
When in doubt, you can opt for safer combinations like shirts in solid off-white, black, navy blue or beige. Team them with black, beige or blue tops to sail through any occasion. A polka dotted skirt goes with a tee in a matching colour.
A georgette skirt in bold prints or an A-line one with some patchwork print looks classy on a toned body.

Top it With

You can choose from a variety of tops in chiffon, cotton, silk with lycra blends to get a fitted look. White or pastel tops with puffed cap sleeves look pretty.
A black georgette top on a black or beige printed skirt looks classy.
Avoid wearing printed tops in large prints with a skirt in large prints. The size of the prints should balance each other. Also, the prints should be of the same colour palette.
The length of your skirt should be short (just covering half of your hips). Wearing a top that resembles a kurta is a fashion diasater.
Tops in subtle contrasting colours look sober on printed skirts. Plus size women should stay away from T-shirts and opt for tailored woven tops in stead.
Corsets, halters, tubes, collared tops look great on printed skirts. You can accessorise them with belts.
A white top is the safest thing to wear over a bright printed skirt.

Sizewise

Petite
Sport prints that are small to midsize. Stay away from skirts in bold colours and combinations like orange on burgundy. Matching the skirt prints with the prints on the top is a strict no-no. A-line skirts and ruffled tops look great when teamed together.

Plump
If you're plump, avoid bold prints altogether. Opt for skirts that only have prints at the hem. Team them with tops in solid colours to balance the look. Umbrella or gypsy skirts are the best bet for you.

Plus size
Avoid large prints as they add to your volume. Stick to skirts in bolder colours like maroon, black, deep blue or purple with small to medium size prints that are far and few, preferably in pastel colours. Striped skirts, especially horizontal stripes are a strict np-no.

Slim
If you are slim and well toned, you can sport every type of print (floral, digital or geometric) in small to medium to large sizes. It also depends on the type of skirt you have donned. Avoid prints on pencil skirts. Opt for floral midsize prints in umbrella skirts or wear A-line skirts with prints just at the hem.

Vipasha Pillai
Wills Lifestyle Casual Top For Women
Pink Printed Tunic
John Players Casual T-Shirt for Men
Rs.1,495 ($31.06)
Rs.2,135 ($44.35)
Rs.995 ($20.67)











Ask our Experts :
Expert Advice, Personality, Immigration (US), Tarot, Hot Couture, Body Care, Matrimonial Laws, Sexual Health, Life, etc, Man vs Woman, Fitness.