A colourful match


Ritu Sakseria advises the bride and groom to coordinate their colour well to avoid a clash on D-day.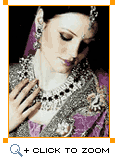 "I simply love colours," announces designer Ritu Sakseria, when we catch up with her in her Studio in Juhu (a Mumbai suburb). And surely her studio is a riot of colours with clothes of almost every hue from bright reds to lime green, fuchsia and blue's jostling for attention on the racks.

Ritu Sakseria began designing professionally two years ago for a select clientele from Mumbai and slowly her clothes caught the fancy of Mumbai's hip set and today she is a known name for her Indian wedding wear - both for men and women.

Ritu's clothes are defined by their form and timeless appeal, as she believes in retaining the traditional Indian look with a contemporary touch. "I don't believe in blindly following the fads - I think bridal wear must be ethnic and something that can be cherished for years to come rather then just a passing fancy - I think my clothes are 'evergreen' and classic in their appeal," states Ritu.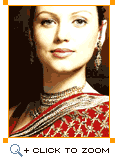 Women's wear
Ritu's draws her inspiration from Rajasthan - its colours, flavours and various types of embroidery fascinates her and she uses it liberally in her motifs and prints. She uses silver beads, swarovski, mirrors, chikankari and patchwork to embellish her designs and likes experimenting with zardozi .

While sticking to traditional designs, Ritu gives them a modern twist; her embroidered petticoats with net saris have been really appreciated by her clients. Her latest add-on is an ornamental swarovski belt with saris that give the outfit a completely different and dazzling look. Besides this, Ritu says that corsets, off-shoulder cholis and deep backs are really doing well this season - the stress on the sensuous feminine look.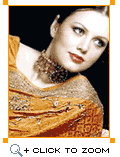 Ritu likes working with "flowy" fabrics like chiffon, georgette and silks that give a great silhouette. She gives an emphasis to the fit and the cut and also advises wannabe-brides on different ways of wearing a particular outfit. "A sari can be draped various styles to give it a different look and also according to the form of a person - I like giving individual attention to my clients so that it's a more personalised experience," adds Ritu.

Another innovation that's popular with Ritu's clients is the "mermaid-cut sari " which is a ready-made sari with pleats that can be draped just like a ghaghra choli .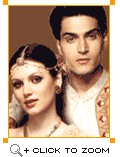 Men's wear
Ritu Sakseria's Indian men's wear collection is known for its elegance, affordability and style. She designs a range of clothes for the groom like bandhgalas, pathanis, sherwanis and churidar kurta sets.

Ritu admits that the Indian male is open to experimenting with designs and colours like never before. According to her the wedding colours for the groom and the baraatis that are doing well are blues, greens, copper, rusts, orange and even lavender and shades of cr?me, beige and blacks.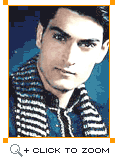 The fabrics that are mostly preferred for her men's line are silks, khadi -silk and other types of linen woven with silk to give a rich look.

Her clothes are embellished to suit the occasion and she uses a lot if chikankari mixed with light zardozi to give a distinguished muted look to her men's wear.

Ritu advises the bride and groom to coordinate their colour well to avoid a clash on D-day.


Arshiya Kapadia
Wills Lifestyle Casual Top For Women
Wills Lifestyle Casual Denim For Men
Wills Lifestyle Casual Top For Women
Rs.1,495 ($31.06)
Rs.1,695 ($35.21)
Rs.1,395 ($28.98)











Ask our Experts :
Expert Advice, Personality, Immigration (US), Tarot, Hot Couture, Body Care, Matrimonial Laws, Sexual Health, Life, etc, Man vs Woman, Fitness.