Chamomile Showcases


An Exquisite Traditional & Contemporary Festive Collection

Chamomile, the multi-designer fashion boutique by Kanchan & Vineet Dhingra had an exclusive preview of the Festive Collections by designers Shyamal & Bhumika and Meera Mahadevia over wine and hors d'oeuvres. The soiree saw a striking and elegant collection of lehengas and cholis complete with drapes, traditional delicate salwar kameezes, and feminine sarees in a combination of earthy and bright tones and small and mid sized ornate clutches - perfect for a contemporary festive evening for this season.

Kanchan (in beautiful olive green saree) & Vineet Dhingra (in a statement making purple army styled cotton kurta over denims) of Chamomile played graceful hosts as guests checked out the stylish collection and helped themselves to wine and coolers over chocolate/ lemon tarts and chicken cheese puffs.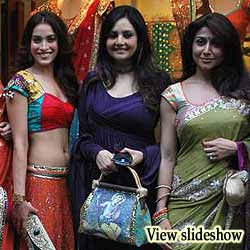 The fashion designer duo Shyamal & Bhumika showcased their Indian wear in tandem with accessory designer Meera Mahadevia who showed what stylish handbags are all about. The collections were modelled by sisters Alicia & Anjali Raut and Rashmi Nigam. Present were designers Shaheen Abbas, Namrata Baruah Shroff, Shonali Nagrani, model Mekhla, Shonali Shroff and Jaya Raheja among others.

Shyamal & Bhumika's collection derives inspiration from traditional garments worn by people in the villages of the border states of Gujarat & Rajasthan. Breaking free from the streamlined silhouettes they bring about a refreshing change in the form of free flowing "ghumerdaar" & "kalidaar" lenghaas, vibrant sarees, patchwork dresses & cholees & luxurious dupattas with elaborate tassels. Stylised floral & paisley motifs, zari braids, spectacular embroidery and hand made details are symbols of this artistic collection. Traditional zari, and gota embroidery combined with contemporary khadi print in antique gold & copper; multicoloured suf and rabari embroidery motifs are used elaborately to ornament clothing.

Meera Mahadevia's 'Palatial Souvenir' collection transcends all patrician styles and perceptions. Evolving from inspirations that are rooted deeply in the emblems and postures of high cultural value, historic importance, dance forms and nature; each bag, unveils understated aristocracy. Every piece exudes reminiscence of the charm and resplendence of the royal past, which is extensively crafted to achieve visual perfection. As always, rich mediums like the finest Indian embroideries, handcrafted metalwork, exquisite stones and fabrics remain to be the foreground of the collection. This Festive collection is available in a rich colour palette of - regal emerald, ruby, silver, gold, royal blue and purple.


A shaaditimes feature
Pink Printed Tunic
Spykar's Denim Jeans For Women
John Players Signature Line T-Shirt for Men
Rs.1,999 ($41.52)
Rs.2,135 ($44.35)
Rs.1,899 ($39.45)
Rs.1,095 ($22.75)











Ask our Experts :
Expert Advice, Personality, Immigration (US), Tarot, Hot Couture, Body Care, Matrimonial Laws, Sexual Health, Life, etc, Man vs Woman, Fitness.