The "Prince of Fashion"
Bernard Chandran


His reputation precedes him: dressing the Royal families of Brunei and Malaysia, earned him his nickname "Prince of Fashion".
Having honed his fashion design skills in Paris, Bernard Chandran launched his label in 1993. Based in Malaysia, Chandran is one of the most sought after designers in the country. His client profile reads like the society's who's who list.

"My inspiration comes from my customers... how they move, how they talk, their attitudes, their lifestyles. When I first meet a new customer, I make her understand that I am here to make you look good," Chandran explains.

Bernard blends wearability, classic silhouettes and feminine styles with a touch of the exotic, ranging from intricate embroidery to beadwork to appliques. His couture is a fusion of both the worlds.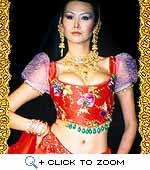 Sutera, Bernard's brainchild is a treasure trove of colourful, exotic, luxurious stuff. It also holds jewellery, handbags, shoes, batik, shawls, buttons and other decorative essentials for one's haberdashery needs - all in separate rooms.

A complete one-stop wedding room that showcases Pret A Porter wedding gowns. His designs exude sheer confidence, sexuality to perfectly balance the designer's Asian and Western influences during his travels and education.

Chandran's creations are drawn from Chinese, Malay, Indian and other eastern cultures. Think of sky blue sarees, burgundy cheongsams(a high necked garment with a slit skirt) with Chinese dragons embroidered with gold thread or dark gold baju kurung (a simple knee-length blouse worn over a long skirt pleated at the side) with its bold artistic plant motifs, complete with a intricate keronsang(a kind of brooch which are pinned in the center of the blouse).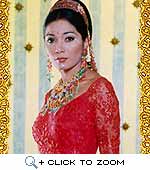 Innovation is essential to him when he designs, "I always wanted to be a creator and inspiration is all around. I aim to invent something new every season - some aspect in my collection that is original."

A traditional family life is vital to Bernard, and he always strives to keep his feet on the ground with his beautiful Indian wife, Mary and five children. "I come from a traditional background - Indian father, Chinese mother. We pray in the morning. And now, not only do I chant for prayer, but I also chant for my success."

Talking of his experience of designing for the royal family of Brunei, Chandran says,'' It is a very unique experience as there are a lot of do's and don'ts involved. I have created designs for both the Queens of the Sultan as well as the Princesses. Both the Queens have their distinct styles and preferences. I do give them my viewpoint but give them a free hand to choose. ''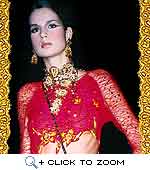 Chandran's forte is made-to-order haute couture designs using luxurious fabrics, lavish decorations, dramatic sequins, beading and embroidery. He being half- Indian is evident in his creations. Multi-coloured bells with pearls and beadwork featuring Zardosi wirework inspired by the Northern Indians with a sexily pleated sari like skirt trimmed with gold lace and Swarovski crystals are part of his creations.

Chiffon pants add a twist of the Indian classical pants styled seen depicted in the Indian goddess, Nadaraj. Bollywood enthused chokers and bangles are part of the accessories he designs.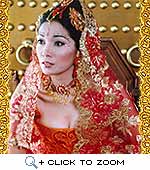 A cross-culture 'choli ' is another classic example. Intricate embroidery and Kerawang Melayu(a traditional Malay technique for cutwork) applied to figure enhancing corsets look chic and glamorous and can be worn by women across borders. ''I believe cultural exchange and understanding will bring not only our fashion industry but the world closer together,'' says the designer.

Today to own a Bernard Chandran dress is a status symbol as his signature creation of couture artwork imbued with alluring glamour has become his trademark.

Bernard Chandran creations are available at his stores in London and Malaysia


Jaahnavi P Paal
Cotton Kurta with Gold Print
Applique Work Stripes Kurti
Pink Printed Tunic
Rs.1,000 ($20.77)
Rs.1,380 ($28.67)
Rs.769 ($15.97)
Rs.1,200 ($24.93)
Rs.2,135 ($44.35)











Ask our Experts :
Expert Advice, Personality, Immigration (US), Tarot, Hot Couture, Body Care, Matrimonial Laws, Sexual Health, Life, etc, Man vs Woman, Fitness.