Vindu and Dina Singh: All in the name of love...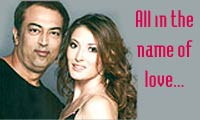 A good love story is like chicken soup for the soul... it nurtures your heart while filling your soul.

Look back to Romeo and Juliet, Laila Majnu and Devdas-Paro and you'll see that couples will travel the earth, fight, lie, defend and even die - all in the name of love. That is what makes a great love story stand the test of time and ensure that romance continue to thrive.


A true love story defies all the elements and forces of the modern world that try to pull it apart. The humdrum of day-to-day living, different cultures, backgrounds, aspirations, the unmemorable moments of time where the laundry and children scream at you, and the responsibilities and duties of being the good son or resourceful wife - these can all work to render thin the fabric that makes true love and a true marriage.

So what makes people so willing to endure it all? Perhaps it is the relentless zest of the passion and momentous feeling? Really, that is why people love! Because when you are in love it sure does feel damn good. And the rest of the time... if you can survive 'the rest of the time' that is what eventually defines your individual "love story"...

The ability to enjoy each other's company when all is less than perfect.

The following "love story" exemplifies the enduring spirit of true love....

Vindu Singh, a film / television actor, famous also for being the son of legendary wrestler Dara Singh married his long-time love Dina earlier in the year.

The couple's tryst with destiny reads like a Mills and Boon bestseller. A clandestine relationship. Love lost yet still alive. Secret notes to one another. Messages through common friends until finally the meeting that changed their lives... and Vindu proposed.

It all started when the celebrated couple met-up in Mumbai and dated for a while. Vindu was then married to lustrous-eighties actress Farah Khan (Taboo's older sister) and Dina a visiting model from Russia was in the midst of launching a lucrative career. They parted and Dina returned to Russia to continue her trailblazing modeling career.

Vindu became everyman's Hanuman and while his career soared, his private life soured eventually leading to a parting of ways between Farah and himself, and to an amicable divorce.

Kipling's east may be east and west may be west, but in tinsel town, the twain does meet.

As destiny's wand swished its magic and Dina traded places with another model in Mumbai who had become ill, her career began to pick-up. Later in the year while visiting Bangkok for a modeling shoot, she literally bumped into Vindu who was also there for an awards show. The rest as they say is history.

Their life before and after the big "m" word reads like a Mills and Boon bestseller. According to Dina, it is a marriage of the heart, mind and soul, as well as of different cultures. Dina hails from Russia and Vindu is the stereotypical Punjab da munda. They have been officially married for over one year now and unofficially together for umpteen more.

Vindu believes, "The longer you're together you find out more about each other and in the long run I think it makes you happier as a couple."












Ask our Experts :
Expert Advice, Personality, Immigration (US), Tarot, Hot Couture, Body Care, Matrimonial Laws, Sexual Health, Life, etc, Man vs Woman, Fitness.

Copyright © 2022 Shaaditimes.com - A relationship and wedding portal by Shaadi.com. - All Rights Reserved.
Terms and Conditions