Theatre, A Man And A Woman
Vikram Kapadia muses on his loves- theatre and his wife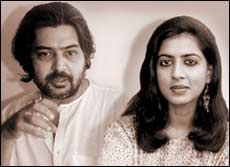 Travelling to the recently built opulent set for Balaji Films latest television show K-Street Pali Hill can best be summarised as an eye-opener. The mesmerizing structure (that is the set of the film) harks back to the long lost era of opulence, grandeur and mystery. A man of many moods and accomplishments Vikram Kapadia plays one of the main leads in this Balaji offering.

Meet the maverick:

One of Indian theatre's most versatile names Vikram Kapadia, director, screenplay writer, and the force behind the Masque Theatre Group is one of the few who has actually made satire a fashionable word to mainstream audiences. One of his most recent successes has been the play 'Black With Equal', a cunning comedy of the plight of a housing society in suburban India.

Kapadia has been sharp and incisive as a producer and has succeeded in marketing his play which has seen a successful two-year run going from strength to strength and playing to packed audiences across India.

Seated in one of the lush rooms on the K-Street set the pony-tailed Kapadia with specks of grey hair can be easily mistaken for one of the artistic types from New York. He's a professionally trained actor and studied under Roshan Tarneja, who is a disciple of the famed Lee Strasburg Studio of Actors in NYC.

Crossing boundaries:
Vikram lets in that he first made inroads in theatre as a co-director with the imminent actor Naseeruddin Shah in 'Julius Caesar' (1992). He reveals, "I think it worked well because I was in awe of Naseeruddin and I think he was gracious enough to include me in important decisions. The high point for me came with the 'First Monologues' as I was going solo for the first time. It was an unusual concept as three directors came together and directed their own monologues."


Originality is a talking point with Vikram and something he mulls over, "Looking for it is like looking for a mythical Saraswati in Rajasthan," he laughs.

He talks about his latest avataar that takes him from the bright lights of the stage into the world of make-believe -- in television and films.

Vikram defends his decision, "Television and film media can be as creative as you want and in today's times seem a natural extension to me."

So does he prefer acting or direction? "As an actor and director I feel pulled apart in two opposite directions. I think I consider myself an actor first; I'm overly sensitive and fastidious and I think every actor has to have that inexplicable faith in their director," Vikram surmises.

His other half:
Vikram is as direct about the other love and passion in his life. "When we're together as a couple we are allies in a hostile world," he pauses. "She is also my best critic." He is speaking of his wife an accomplished journalist and poet, Arundhathi Subramaniam.

So do egos and tempers fly when two intellectuals and creators come together or can there be a meshing of hearts and minds?

He laughs, "Well, both of us complete each other. If I am writing a screenplay I don't show it to anyone until Arundhathi has read it and then if she approves I know it will be a success." On a more sombre note he admits, "We try and spend time together but it has been difficult lately thanks to television. However, we are both used to doing our own thing. She's a poet and journalist who concentrates on the performing arts."

What is Vikram's take on marriage?
He says, "I don't believe in marriage as an institution. If it weren't for societal constraints we would have thrown out all the marriage doctrines and been open to the idea of living-in together. I feel marriage brings with it a different type of baggage in the relationship. One starts taking certain things for granted... and just when the moments are lost like a phoenix spreading its wings of rebirth the problem dissipates and doesn't seem important."

Currently both Vikram and Arundhathi are in the midst of changing residence, so there is little time for much else. "We're moving our books and cats. I didn't realise till now that redoing a home is one, long tedious process," he jests.

Something like writing plays, acting, directing and enjoying a successful relationship we imagine!













Ask our Experts :
Expert Advice, Personality, Immigration (US), Tarot, Hot Couture, Body Care, Matrimonial Laws, Sexual Health, Life, etc, Man vs Woman, Fitness.

Copyright © 2020 Shaaditimes.com - A relationship and wedding portal by Shaadi.com. - All Rights Reserved.
Terms and Conditions