Amita And Vikas Sethi: Two To Tango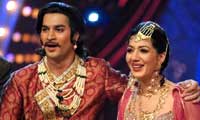 Dancing their way into everyone's hearts on Nach Baliye, Amita and Vikas Sethi have seven years of a successful married life behind them.

The couple has been making waves - first, for Amita's broken toe (Vikas stepped on it while dancing!) and then when they fired their choreographer, Khalsa Raj, for being 'unprofessional'. Amita is a non-dancer and an airhostess by profession and Vikas is popular as Swayam in Kahiin To Hoga.

Shaaditimes caught up with the 'earthy' couple while they were on their grocery rounds.


How did the two of you meet?
Amita: One night I went out clubbing with a gang of girls. We saw a cute guy in a white linen shirt and decided to chat up with him. We had a good time. Both of us were born in Chandigarh and we had a lot in common. But we dated for a short time. I think we met in January or February and by December we were married. It will be seven years in December.

So the itch is over?
Amita: There has been no itch. We are busy with our professional lives so we manage little time together. And we do some things together. Like shopping for everyday needs.

How has your Nach Baliye experience been so far?
Amita: Nach Baliye has been fun. It has been stressful at times and at other times it has been joyful. I have cried like a baby and laughed out loud. At Nach Baliye I have seen varied emotions and experienced them in the extreme.

I think I am improving now. I am not a great dancer but people are beginning to say that my performance is improving and I have better expressions now. If I get this kind of appreciation, I think I will be able to improve.

Vikas: Beautiful. It is something we have never done together. She used to think my profession is easy. That I just go and speak in front of the camera and come back home with a lot of money. But now she understands.

She doesn't ask why I am tired or when I am getting home. It is not mentally tiring but when the lights are so hot it's physical torture for your organs. I am happy that we are able to spend such quality time after 7 years.

Which of the two of you is a better dancer?
Amita: Vikas is a better dancer. It's an unquestionable truth.
Vikas: We have never compared that because she's an amateur. I have to co-ordinate with someone who's never done it before. But I can't overpower my wife here because the show is about how you dance with your baliye. So on the show I won't go all out but try to look good as a couple. It's how you handle it that is important here.

Amita, how has it been working with your hubby?
Amita: I've been blessed. He's very protective. He doesn't let even half of the harsher realities of the acting world bother me. What hardships people go through in here (Nach Baliye)! But he is like a shield for me at Nach Baliye. It's great fun. We have a fabulous choreographer and the judges, fans and audiences have been great to us.

What qualities do you appreciate in him?
Amita: I admire him because Vikas is a calm person. On the contrary, I'm very excitable and have a lot of mood swings. But he maintains a steady ground.

What qualities do you appreciate in her?
Vikas: She is a strong person. When I lose my positive attitude in life she is always there to hold me. I'm an honest person and I don't gimmick. But she is strong and tells me to 'be the way you are'.

The qualities that you don't like about him?
Amita: There are exactly three things I don't like about him: He doesn't know how to switch off the geyser. He always throws his wet towel on my pillow, I don't know how. And the third is his fascination for TV and cricket.

The qualities that you don't like about her?
Vikas: She's a Principal in the house. She'll tell me 'why do you leave the geyser on' or 'why do you leave the tap running'... like a regular housewife. But boys will be boys at the end of the day.

What has been your most romantic evening out?
Amita: Our most romantic evening out was in Hong Kong on the main island. It was fun. He got me a bouquet of roses, there was an alfresco dinner surrounded by clouds and it was bone chilling cold.
Vikas: It was definitely in Hong Kong. It was freezing but we were roaming around and chatted for hours.

Also read :
Sweta And Alexx: The Indo-Dutch Foxtrot
Pooja And Hanif: From Jhalak To Nach
Kiran - Ritu: Nach Baliye Or Lad (Fight) Baliye ?
Karan Grover - Kavita Kaushik - Cuties of the Nach Baliye sets!


A shaaditimes feature
Wills Lifestyle Casual Top For Women
John Players Signature Line T-Shirt for Men
Applique Work Stripes Kurti
Rs.1,380 ($28.67)
Rs.1,495 ($31.06)
Rs.1,095 ($22.75)
Rs.1,200 ($24.93)











Ask our Experts :
Expert Advice, Personality, Immigration (US), Tarot, Hot Couture, Body Care, Matrimonial Laws, Sexual Health, Life, etc, Man vs Woman, Fitness.