Sweta And Alexx: The Indo-Dutch Foxtrot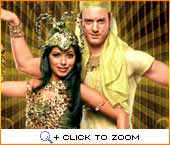 Nach Baliye 3 has given popular actress Sweta Keswani and her half-Irish-half-Dutch boyfriend Alexx O'Neil their first chance to work together. Alexx is not conversant in Hindi but he has tasted Bollywood with his brief roles in Cheeni Kum and Loins of Punjab Presents where he spoke only English.

Set to be married soon, Sweta and Alexx are setting the Nach Baliye stage ablaze. Their fusion performance where Alexx pulled off being a pundit from the south of India gave them glorious accolades. Let's hear it for the couple that is fusion personified.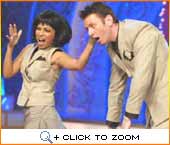 How did you meet?
Sweta: We met at a party through a common friend and got to know each other gradually. We started dating much later where I had to tell him to take a call and ask me out or I would be gone.

How has it been to work with your life mate?
Sweta: It has been strange working with him. Since we come from such different fields, we never thought we would work together. But now our fields and work are colliding.

How has the Nach Baliye experience been so far?
Sweta: Hectic. We are always exhausted. We crave to watch movies, to party with our friends and to do normal things.
Alexx: It has been strange for me since Nach Baliye started. In the initial months my microwave broke, then my air conditioner broke, everything broke. There was no food and I had to eat out everyday. When I finally did get a new microwave, the old one strangely started to work. So it has been a strange combination of good luck and bad luck.

Who is more creative among the two of you?
Alexx: I think both of us are. One comes up with a string and then we cut through with our own ideas. Let me tell you, we can't choose our songs. They say we can change them but it doesn't really happen. But I guess that is part of the creativity... to work on something that is given to you.

What qualities do you appreciate in him?
Sweta: His honesty, simplicity and affection.

What qualities do you appreciate in her?
Alexx (like an excited, doting lover): Her thoroughness with thoughts. She plans very well and is a good opposite for me because I don't plan. She has that spark. She came to Mussoorie to see me once. That was an 18-hour journey by air, bus and more. She reached when I was eating lunch and you would think she wanted to chill. But she simply picked me up and we spent all day seeing everything there was to see in Mussoorie.
She is also straight forward, which I really admire about her. There are many people in this field who lie but she'll say everything on the face. I could go on and on about her.

The qualities that you don't like about him?
Sweta: His laziness. He is always late. Has no sense of timing.

The qualities that you don't like about her?
Alexx: I would want her to be more patient. Sometimes she snaps and forgets how difficult it is for me because of my background. She wants everything to be perfect - the expression, timing and everything. But she just needs a quiet reminder.













Ask our Experts :
Expert Advice, Personality, Immigration (US), Tarot, Hot Couture, Body Care, Matrimonial Laws, Sexual Health, Life, etc, Man vs Woman, Fitness.

Copyright © 2022 Shaaditimes.com - A relationship and wedding portal by Shaadi.com. - All Rights Reserved.
Terms and Conditions