In Sync : Padma and Suresh Wadkar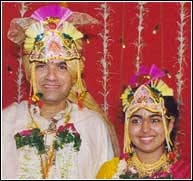 Padma and Suresh Wadkar share two common passions - music and each other. He is an accomplished singer known for several hits of the yesteryears whereas she is a trained classical vocalist who has devoted herself to teaching music.
This unique couple, with an age difference of sixteen years between them is a testament to the fact that marriage knows has no age limit and love no boundaries. The beginnings

Padma takes us back to the time when she first met Sureshji. "I came to learn singing with Acharya Jialal Vasant (Sureshji's father) when I was ten years old (1983). I didn't know Sureshji that well and it was only after Guruji passed away in 1985 that I came in contact with Sureshji. I was always in awe of him and have literally grown up around him. When I was Ruparel College, I would often bunk morning lectures just to catch a glimpse of him doing his riyaaz. It was during this period when my feelings towards him started to change and before I knew it I was in love with him." Sureshji also remembers the time when his feelings for her changed. "It was around 1992, when my feelings started to change. We were in the US, and I had fallen ill and was hospitalized in New York. Padma took great care of me, until I was better, that's when my feelings started to change."

Fatal attraction

"She is a very caring and self sacrificing individual who can read me like a book," beams Sureshji. Padma fell in love with her husband's entire persona, "He is a great singer, but a greater human being. His sense of integrity and dedication towards any task at hand is inexplicable. As a teacher, he has made me see perfection if not attain it." This couple never had a courtship like a normal couple. "There was an unspoken bond between us. Both of us were in tune with our feelings," says Padma.


'I always had an insecurity about our age difference'

This musical duo has an astonishing age difference of sixteen years between them. "I have always had an insecurity towards our age difference," says Sureshji. "Before our marriage I had already undergone a bypass surgery and didn't want Padma to commit to a man much older than her, but she was adamant." Padma offers her reasons. "There were no second thoughts on my part. Though my family was against our alliance I was resolute. We loved and understood each other and that was that."

Marriage doesn't come with a guarantee card!

Pre-marriage days were turbulent for the both of them, more so for Padma. "I'm a Keralite and we have a huge family. I have two brothers and my younger brother was furious. When the news of my marriage plans reached home, it caused a quite a stir. My mother supported me throughout, she told not to enter marriage with a guarantee that it's going to work. She advised me to go ahead only after I was sure of what I was doing. There were many people who tried to dissuade me. I was able to cope up with the pressures only because of my mother."

Marital bliss

Finally they were married in July 1998. Sureshji confesses that the news of his marriage wasn't greeted with much enthusiasm within the community. "People were shocked at the news of my wedding to Padma. But there were those stood by me. Many of my singer friends including Kavita Krishnamurthy encouraged and supported the decision."

Trust is supreme

Padma believes that husband and wife must give each other breathing space in order to have a sound relationship. "Personally, I feel that giving each other space to grow, both personally and professionally is the key. We both lead different lives so personal space is essential." For Sureshji no relationship can hope to survive without trust.
"Trust is crucial in anything one does. It could be your work or your marriage. I think once you trust each other completely; other elements such communication, understanding and tolerance fall into place automatically. In our marriage all decisions are taken as a unit, not by a single individual. We trust each others decisions."

'It was difficult to accept the reversal of roles'

Padma and Sureshji did find it difficult at first accepting their new found identities as husband and wife. For Padma, marriage has changed a lot of things. "First I had to respect him as a teacher, now he has to handle my tantrums as a wife. It was a little funny at first, but it has changed in the last five years. The equation changed after our daughter Ananya was born. When Ananya came into our lives we started to share a different bond. It brought us closer together." For Sureshji marriage has meant a few adjustments and lots of gains. "Initially I was unable to fathom the fact that she is my wife but that started to change. Marriage has done me a lot of good. Marriage has given me love, life, hope and my Ananya, who is now four years old."

Friend, philosopher and guide

"His greatest strength lies in the fact that he, besides being a husband, is a friend, philosopher and guide. He is very kind, sensitive and extremely tolerant of my tantrums. He is not the kind of man who believes in doing the so-called PR (Public Relations) work in order to get assignments; he thinks it's wrong. Though he is a man of principle it has affected his career rather negatively," says a devoted Padma.

A devoted wife and teacher

" Padma is a kind, loving and caring human being. She takes care of our whole family, guests and all our students. She is an extremely devoted teacher and a favorite of all her students. The only complain I have against her is that she is a little short tempered and reacts too fast and aggressively to situations. Chocolates are another weakness. She just cannot do without them," Sureshji says indulgently.

Crisis management

They say that a good argument once in a while can do a marriage a world of good. The Wadkars too believe so. "Sometimes we fight over the smallest of things but we don't hold on for long. It opens up congested channels of communication," says Padma. Sureshji offers another interesting view. "We do have our arguments but what I think is more important is resolving it as quickly as possible. Padma gets very aggressive whereas I prefer to be passive. Aggression comes with age and decreases with it. Due to our age difference she is bound to be more active and react fast at times. In such cases, I don't speak to her at all until she realizes her mistake and vice versa."

Not stereotype

"Friendship plays an important role in marriage but Sureshji and I aren't the kind of friends you would have in an ideal scenario. I tend to think of us as companions who at all times consult each other on various issues and never do anything without the other's consent. He comes to me for advice on several issues, the most important being his wardrobe. I am the final authority on what he should wear and what he shouldn't." beams Padma. Sureshji tends to agree. "We aren't the characteristic romantic couple but we share a great relationship and passion for our music."


Aseem Hattangady
Applique Work Stripes Kurti
Wills Lifestyle Casual Top For Women
John Players Signature Line T-Shirt for Men
Rs.1,380 ($28.67)
Rs.1,200 ($24.93)
Rs.1,495 ($31.06)
Rs.1,095 ($22.75)











Ask our Experts :
Expert Advice, Personality, Immigration (US), Tarot, Hot Couture, Body Care, Matrimonial Laws, Sexual Health, Life, etc, Man vs Woman, Fitness.