« continued from previous page


Mating of minds
Sachin and Supriya Pilgaonkar


"He left no stone unturned to make me happy. He always cared for my needs and spent time with me after returning from work. He never neglected me for his work. He pampered me and stood beside me when I felt low and gave up on an argument when we had one. Till date, he pulls my leg that I took advantage of being so young," confesses a smiling Supriya.

Secret of a healthy knot
"Communication is vital in a relationship. No man is perfect enough to understand unspoken words. The biggest of problems can be solved with good communication and even the smallest of problems can be insurmountable without it! Especially when you stay in a joint family, you have to make that extra effort to compromise and adjust," says Supriya.


"A great marriage is not when two perfect individuals come together. It is when an imperfect couple learns to enjoy their differences," adds Sachin.

Of cooking and poetry
"Romance does not mean candle-light dinners or long drives. Small loving gestures add flavour to the relationship. Even today, Sachin calls up from work just to say that he misses me," beams Supriya.

"Once he returns, we watch a film or play carom and chess. On a Sunday, we cook together, where I do the chopping while he does the stirring. Moreover, he loves to serve food in the most attractive manner. He will arrange the plates, lay the table and even teach us how to eat using a knife and fork, which is so sweet and romantic. Later, we sit on the jhula and just talk, which is a most heart-warming activity," she says.

"Both of us are pretty romantic," gushes Sachin, "we love music and find immense solace in Urdu poetry, which I think is very much romantic."

Lessons learnt
"Sachin is hot-tempered, whereas I am short-tempered. When he gets angry, he blows his top but I cool down faster. In these years, I have learnt a lot from him professionally and personally. His dedication towards work, disciplined yet simple life-style and his devotional love towards his family are truly exemplary. I also respect his intelligence and maturity," Supriya gushes.

"Marriage has its ups and downs. But, instead of focussing on the lows of the marriage, I have learnt to judge it by the highs because the highs are in our control. We always plan and create good times together so that we would have something to cushion the lows with when they occur unbidden. And by doing so, we increase the survival capacity of marriage," ruminates Sachin.

No Tu Tu Main Main
Speaking about her relationship with her mother-in-law, Supriya says, "My mom-in-law is more than a mother to me. Having married young she completely mothered me. All these years, we have grown to understand each other and share a very warm relationship."

"Seeing the beautiful relationship between my wife and my mother motivated me to make the serial Tu Tu Main Main. But I projected it in a funny manner, which appealed to the masses as it showed a bond of companionship between two women who are different in temperaments," explains Sachin.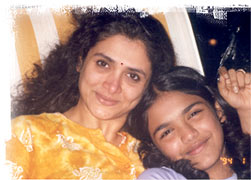 Of father and daughter
"Shreya has brought immense joy in our lives. She is a very quiet and loving child. It brings me to tears to think that like all daughters she'll leave us one day, but we are very close and share everything under the sun," says Supriya of their adopted daughter. Sachin adds, "Shreya has completed our family. She is an emotional and a sensitive child. I am very possessive about her. She inspired me to make the film, Aisi bhi kya jaldi hai, which is about love between a father and his daughter."

In the name of love
"The entire concept of love changes once you marry. Healthy marriage is an outcome of a strong bond. Love is like phases of the moon, when it is not waxing, it is waning. Love is not possessiveness. It takes loads of adjustments and sacrifices to strengthen the knot," proclaims Supriya.

"Love is a soft and tender expression. It is faith and confidence in your partner that makes it strong. Love is a plant that needs to be watered and nurtured every single day, only then will it become a tree bearing sweet fruits," mulls Sachin.


Natasha Havewala
Applique Work Stripes Kurti
Pink Printed Tunic
Wills Lifestyle Casual Top For Women
Rs.1,380 ($28.67)
Rs.1,200 ($24.93)
Rs.2,135 ($44.35)
Rs.1,395 ($28.98)











Ask our Experts :
Expert Advice, Personality, Immigration (US), Tarot, Hot Couture, Body Care, Matrimonial Laws, Sexual Health, Life, etc, Man vs Woman, Fitness.