Role models
Sheeba & Akashdeep share their mantra on love & togetherness


"A successful marriage requires falling in love many times,
always with the same person"
- Mignon McLaughlin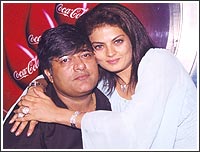 This may well be the mantra of Sheeba and Akashdeep. Like many relationships in showbiz, theirs too bloomed on film sets, but unlike many others theirs proved to be a runaway success. Seven years after Sheeba and Akash met on the sets of, Pyar karo , they are still together in wedded bliss. The producer-director team is riding high on the success of their serial, Karishma.

If you thought that marriage between two strong individuals from the same profession couldn't be successful then Sheeba and Akash will prove you wrong. ShaadiTimes spoke to the lovely couple and discovered the secret of their happy marriage.


Landing the perfect role... of a wife
"I met Akash for the first time when he was directing me in this movie, Pyar karo ," reveals Sheeba. "We became good friends, but it was only later when we went to Goa for shooting the film, Miss 420 that the flame of love was ignited. I was attracted by his sense of humour and easy-going nature." Sheeba's resolute character and traditional values, in turn, bowled Akash over. "I enjoyed working with her. Moreover, professionally we got along well and had lot of fun on the sets. In the process, I fell in love with her. Behind the modern fashionable woman was an innocent child, who mesmerised me," says Akash.

"I was apprehensive in the beginning. It upset me when people on the sets talked about us. However, I realised that as long as it did not affect my work, it was nobody's business to interfere with my life," says Sheeba. By then, the couple was far too entrenched in a relationship, which took the obvious contours of marriage.

Marriage, five-star style
"My parents did not oppose our relationship, as they believed in me. They trusted that I would never get into a relationship with my eyes closed," says Sheeba. The fact that both were Punjabis made things easier. "After seven months of courtship, we got married on November 27, 1996."

Sheeba describes her memorable wedding: "We booked three floors of Hotel Horizon in Mumbai for an entire week. Both our families stayed in the hotel, itself. Besides the wedding we had all the other ceremonies like the sangeet , the haldi and the cocktail party at the hotel. Both the families bonded so well that it was difficult to recognise who belonged to the bride's family and who belonged to the groom's. We went to the Gold coast in Australia as backpackers for our honeymoon."

Not a male chauvinist
"Akash isn't a male chauvinist who would expect me to do all household chores or get angry if I came home late from work," maintains Sheeba. "We understand the pressures of work as we both belong to the same profession. In the glamour industry, you have to make an extra effort to understand the demands of work and the erratic timings. You have to be mature and tolerant. Akash is quite mature. Not only does he understand the pressures of my job, but he also takes care of the home and children when I am working in a double shift."

Akash concurs: "Till today, we have never compromised on any issues. We have been dear friends, and after becoming proud parents of our two sons Hridaya and Bhavishya, our friendship has only grown stronger. We have never nagged each other for space or for making adjustments."

A package deal
"Trust, compatibility, understanding and bonding are essential to make a marriage work. And these are just not words; one has to incorporate these qualities," believes Akash. "Sheeba has never accused me of coming home late or has doubted my loyalty to her. I admire her strong individuality, but I admire her thoughtfulness as the lady of the house and a mother, even more."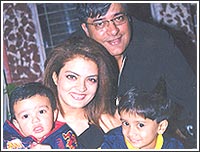 For Sheeba, the one quality - a perquisite for marriage is acceptance. She says, "When you truly love someone, you have to love him as a whole package - his physical being, his emotional self and his dreams. You should choose to support his dreams and respect him. You cannot judge or reject him because of some personality traits you don't approve off. That is the beauty of being a couple. Both the partners are entitled to their own decisions, hobbies and goals."













Ask our Experts :
Expert Advice, Personality, Immigration (US), Tarot, Hot Couture, Body Care, Matrimonial Laws, Sexual Health, Life, etc, Man vs Woman, Fitness.

Copyright © 2019 Shaaditimes.com - A relationship and wedding portal by Shaadi.com. - All Rights Reserved.
Terms and Conditions