Chef Talk - Sanjeev & Alyona Kapoor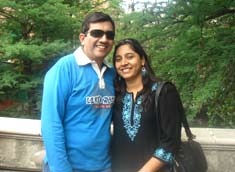 He proved his dancing prowess with Sony Television's reality show Jhalak Dhiklaja. He added tadka to the show with his moves and proved that he is not only world's renowned cook but can also shake a leg.

Shaaditimes treats its readers with an appetizing interview with cookery show host Sanjeev Kapoor, and his better half Alyona Kapoor.

Married for...
Sanjeev: We are married for almost fifteen years.

How long was courtship before marriage?
Sanjeev: Our courtship lasted for 4 years.

Alyona: We met through my elder sister. Sanjeev and she were working together. I got to know him as my sister's friend. She too was a chef and was posted to ITDC, Varanasi. On one of my trips to meet her, Sanjeev and me travelled together. Slowly we got to know each other better. We started to meet more often and then finally after our courtship of 4 years, we tied knot.


Qualities you like about each other?
Sanjeev: We love each other as we are. Actually Alyona has an excellent coordination ability.

Alyona: He is very understanding and has lots of patience.

One thing you would like to change in your spouse and why.
Sanjeev: Nothing really. I love her for the person she is and vice versa.

Alyona: Nothing.

Who is the best cook amongst you both?
Sanjeev: If you ask me I would say my wife is the best cook; but if you ask her she would take my name.

Your favourite dish Alyonaji has prepared?
Sanjeev: I love all the dishes she prepares.

Any dish Sanjeevji had prepared and you still have the memories.
Alyona: On one of my birthdays Sanjeev made some sumptuous Italian food, which everyone enjoyed thoroughly.

Topics you quarrel on... who backs out?
Alyona: There are a few things we disagree on. Sometimes he backs out and at others I back out. But at end of the day we make sure that the problem is sorted out to our satisfaction.

Does his star status ever affect your marriage?
Alyona: No it does not. Mainly because he does not let his star status affect him.

Sanjeev: I try that our relationship stays unaffected by anything.

One good quality you find in her / him?
Sanjeev: She keeps me grounded!

Alyona: He is passionate and loving.

Recipe of a successful marriage?
Sanjeev & Alyona:
1 1/2 cups of trust
1 cup of understanding
1 cup of patience
1 cup of faith
Heaps of love.
Mix theses ingredients together and you are ready to enjoy a delectable meal of life.


Vaibhavi V. Pradhan
Wills Lifestyle Casual Denim For Men
Wills Lifestyle Casual Top For Women
Spykar's Denim Jeans For Women
Rs.1,999 ($41.52)
Rs.1,695 ($35.21)
Rs.1,495 ($31.06)
Rs.1,899 ($39.45)











Ask our Experts :
Expert Advice, Personality, Immigration (US), Tarot, Hot Couture, Body Care, Matrimonial Laws, Sexual Health, Life, etc, Man vs Woman, Fitness.