« continued from previous page


Heart Choice - G.S Sainani and Pushpa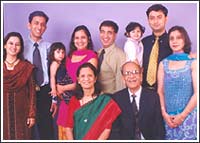 Cooperation, not competition
"When we could manage our work and home, I wonder why today's generation finds it so difficult to do so. Even we worked to make ends meet; there were pressures and deadlines to meet. Even we had to fight stress, then why can't today's couples do so? Couples today, lack tolerance. Competition, rather than cooperation, is taking place between spouses," feels Pushpa. "Respect for each other and respect towards each other's families is essential in a marriage. Marriage is not coming together of two people alone, but of two families. Spouses have to love and respect each other's families," Dr. Sainani advocates very strongly.

"Commitment to spouse and perseverance in the face of hurdles will ensure a successful marriage. Everybody has faults; but if you admit them and overcome them; and are willing to accept your partner with her faults, a healthy and strong marriage can be built," he maintains.

Sharing intellectual space
"Being in the same profession, there is a greater tendency to talk shop all the time because you rightly see each other as a valuable professional resource. We share concerns about our work and bounce ideas off each other, which helps us in our professional and personal lives," says Dr. Sainani. "We certainly give emotional support to each other when we've had a tough day at the hospital. Coming from the same background, we can intellectually challenge each other and this is a great help," Pushpa adds.

Marriage mantra
"She has sacrificed a lot for my growth as a doctor. She has always told me to go ahead and work, even if it meant sacrificing her work schedules. I would not have been able to rise high, if it were not for her," says Dr. Sainani.

"If you want your husband to come up in life then you must give him a free hand," advises Pushpa. "Marriage should never strangle a person's growth as an individual. A marriage is healthy when you respect the space that allows your spouse to grow. Moreover, it wouldn't have been easy for him to hold lectures, write books on medicine and even practice his profession devotedly if I were to be a nagging wife always asking for attention."

The family that eats together stays together
"We both had steady jobs, so financially we were quite secure. We never worked to make ends meet," says Dr. Sainani. "Money is important, but it is not the only criteria for happiness. My salary was a meagre Rs. 4000, but through hard work and constant support from my wife, I have been able to attain so much in life."

Pushpa believes: "At times, it becomes difficult to balance our personal lives with our professional lives, but we try to keep the two separate. I would make sure I reached home before the children returned from school. I would prepare snacks and we would talk about how we spent our day. Just because I was a working mother didn't mean that I would neglect their needs. My husband made sure that all of us would dine together, thereby having our little chats. All these little things are necessary to make a strong family."

Grand parenthood
"Becoming grandparents is a wonderful experience in life. It's a completely different feeling when you are called 'Granny'. I play with my grandchildren, go for walks with them and do all the little things I never got the chance to do with my children," says the smiling grandma.


John Players Signature Line T-Shirt for Men
Cotton Kurta with Gold Print
John Players Casual T-Shirt for Men
Rs.1,000 ($20.77)
Rs.1,095 ($22.75)
Rs.769 ($15.97)
Rs.995 ($20.67)











Ask our Experts :
Expert Advice, Personality, Immigration (US), Tarot, Hot Couture, Body Care, Matrimonial Laws, Sexual Health, Life, etc, Man vs Woman, Fitness.