Heart Choice - G.S Sainani and Pushpa


Marrying within the profession is quite common in the medical fraternity and one encounters doctor couples all the time. But how do these marriages fare given the stressful demands of their vocation? What special efforts do the couple need to take in order to keep the home together? Shaadi.com spoke to Dr. Gurumukh Sainani and his wife, Pushpa.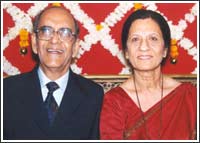 Dr Gurumukh Sainani is a Physician with Mumbai's Jaslok Hospital. An Honorary Brigadier, he is also the recipient of Padma Shri and a highly decorated doctor. He is the first medical man in the entire history of Pune University to get a D.Sc (Doctor of Science) for three decades of research in Medicine. Dr. Sainani has written medical books, journals and over 500 research papers and was the sole representative from India to participate in WHO - sponsored International Congress of Editors of Medical Journals held at Copenhagen, New Zealand.


The lady largely responsible for his success is his better half, Dr. Pushpa Sainani. Dr. Gurumukh maintains that it was her single-minded support and unconditional love that helped him scale newer heights. Mother of three children, Dr. Pushpa sacrificed a lot including her career growth to give him the necessary leverage.

A doctor for a wife
"I always wanted a doctor for a wife. And though I had met a lot of eligible girls, when I met Pushpa through a family friend, I knew this was the woman I wanted as my wife," says Dr. Sainani. "She was not only intelligent, but also charming and beautiful. The reason she pursued this profession was because she is very compassionate." Pushpa adds: "The rishta came from his side, and in those days you married someone your family chose for you. My mother was sure that he was a perfect match for me. Our families met each other and we got married on 18th May 1963."

Distance makes the heart grow fonder
"After marriage he was transferred to Aurangabad as a medical professor and I continued studying in Mumbai at JJ Hospital. He was completely in favour of my decision to stay back. For a year we stayed in different cities, and we would meet over weekends. This period of separation, in fact, brought us closer emotionally and helped our relationship grow," recalls Pushpa.

Dr. Sainani says: "After our daughter Renu was born, I was invited to work as a visiting Professor of Cardiology at Chicago Medical School. A doctor's job is very demanding with odd hours and overtime. She sacrificed her line of work and joined the Pathology department at Cook Country Hospital to spare time for the family and me. This was a regular 9 to 5 job and there were no emergencies there.

"Only a woman can sacrifice her needs for the well-being of a family. Similarly, when I wanted to pursue further studies in MRCP (Member of the Royal College of Physicians)
in London, she worked in a London hospital to make ends meet. Renu was just three years old; that's when we sent her to India. Both, Pushpa's and my mother took care of her," he adds.

Give and take
"After our second son, Rajesh was born, we returned to India; Pune to be precise. Pushpa began work at ESI Hospital, and simultaneously began her studies," says Dr. Sainani. "It was my turn to giver her moral support now. This made me realise that marriage is not just about taking, it is also giving when the need arises."

"I always got his entire cooperation, be it in my profession or household work," praises Pushpa. "I would go to the hospital in the morning and return by afternoon so that I could be with the children. In an emergency, he would take care of home and children. He always motivated me and encouraged me to work. Not once did he complain that I was neglecting home."













Ask our Experts :
Expert Advice, Personality, Immigration (US), Tarot, Hot Couture, Body Care, Matrimonial Laws, Sexual Health, Life, etc, Man vs Woman, Fitness.

Copyright © 2022 Shaaditimes.com - A relationship and wedding portal by Shaadi.com. - All Rights Reserved.
Terms and Conditions