'Marriage is not a bed of roses' - Renuka Shahane and Ashutosh Rana


Her thousand-watt smile leaves you stunned, his Hindi even more. Both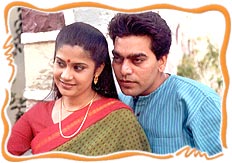 have carved themselves a well-deserved place in the industry and each other's hearts. Married for two years, Ashutosh Rana and Renuka Shahane have found happiness together.

In an exclusive with ShaadiTimes, this happy couple shares their thoughts on love, marriage and parenthood.


'Hum aapke prashansak hain'
"We met at the trial run of a film called Jayati , directed by Hansal Mehta, which unfortunately never hit the screens. Ashutosh came to the show with singer Rajeshwari Sachdev. She introduced me to him. I hadn't seen Dushman , so I really didn't know who he was until then. He on the other hand, had seen Sailaab and Hum Aapke Hain Kaun , and was quick to accolade my performances with a - hum aapke bade prashansak hain (I'm a great admirer of your work). After the show, they dropped me off at Prithvi theatre, as my driver hadn't shown up. This was in September 1998 and there was no contact between us after that day for several months."

The build up
"In October, director Ravi Rai was planning a serial, and he had Ashutosh, a few others and me in mind. Ravi Rai had thrown a Divali party at his place where Ashutosh couldn't make it because he had to give an interview. The next day he called on me on my answering machine wishing me a happy Divali. This was on 17th October, he again called on 19th October and finally on 20th October 1998. Feeling a little awkward, I called him back and we ended up speaking for an hour. The days that followed were amazing, we spoke only on the phone because of our busy work schedule and finally after almost three months we finally met on 31st December 1998."

'There was something mysterious about him'
"He is an extremely intelligent person and a terrific actor," says Renuka. "It's the drive and ambition he has, that left me awe struck. There is something mysterious about him; he has this quality that i hadn't observed in any one else. Besides, he was a very well educated man."

"Her peace, intelligence, strong personality and her liveliness attracted me towards her," says Ashutosh. "We love to talk to each other. We've always had different opinions on several issues, but our work was something we never discussed."

'I learnt a lot from my first marriage'
Renuka's first marriage was short-lived. The failed marriage, according to Renuka, has done more good than harm. "I did have insecurities before getting into another marriage, but I guess I was better equipped this time around. My first marriage has made me what I am today."

As for Ashutosh he had no doubt that she was the one for him. "Her past didn't feature in any of our long discussions, there were no doubts on my part."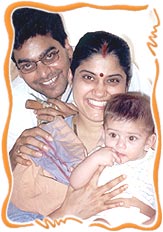 An equal and opposite reaction!
"My father who has a very cool temperament reacted very pleasantly to my wedding plans,'' says Renuka. "My mother was very tense, not because it was my second marriage but due to Ashutosh's family background. His family, which hails from a little hamlet in Madhya Pradesh, consists of twelve members."

Now they share a wonderful relationship, he has even picked up Marathi from her! Ashutosh's family was more than happy for him. "I was the last in my family to tie the knot and my family members took an instant liking for Renuka. There might have been a cultural difference between our families, lekin raston pe aalag nahin the (We did not have different paths)."

A royal wedding
And so after two and a half year's of courtship, they decided to get married. Their wedding was an affair right out of a fairy tale. They had decided to get married in Damoh in Madhya Pradesh.













Ask our Experts :
Expert Advice, Personality, Immigration (US), Tarot, Hot Couture, Body Care, Matrimonial Laws, Sexual Health, Life, etc, Man vs Woman, Fitness.

Copyright © 2023 Shaaditimes.com - A relationship and wedding portal by Shaadi.com. - All Rights Reserved.
Terms and Conditions