« continued from previous page


Pooja And Hanif: From Jhalak To Nach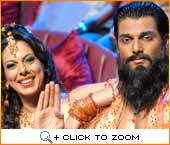 What about stress on the sets?

Hanif: No, there hasn't been any stress on the sets. We all have been one happy family. Nach Baliye has actually brought out the best in me and us all.

Pooja: There has been no stress regarding our personal relationship but on a professional front, it does pose a lot of stress. In fact, a high amount of stress! We are always surrounded by a lot of professional expectation all the time.

At the same time, it's nice to have Hanif around. Together, we manage to help and understand each other. We share a responsibility that helps us get over all sorts of stress.


Has Nach Baliye changed your relationship?

Hanif: No, it hasn't changed our relationship. I could say it has strengthened it even more. I have been working with her so it's not really been a different experience. It is a great way to celebrate the value of life. It has also given me a chance to showcase my love.

Pooja: I wouldn't say 'changed the relationship' in any way. In fact it has strengthened it in a lot of ways. We support each other whenever and wherever!

Your most romantic moment on the sets?

Hanif: (laughs) there have been many actually. (Could you tell us more?)
There was this time during practice that I played a prank on her. I pretended that I got hurt. She took it so seriously that she kept apologizing for it. Later, I felt really bad because it made her cry. She kept saying, "I'm sorry" for a long time. Later on, it was me who said, "I'm sorry".

Pooja: (Laughs) well, small things on the sets happen everyday. I am very fond of flowers. Hanif presents me with flowers every now and then. This one time he presented me with flowers on the set. I was very touched and I think it was the most romantic thing he did for me.

Besides that, there was this prank that he played on me that made me cry. Later on, he said that Pooja cried, 'because of me and for me'. I think that was very romantic too.

Who among the two of you is a better dancer?

Hanif: Well, when it comes to high-energy steps, I have an upper hand because I have been a dancer and have had the experience. As for Pooja, when it comes to being fluid, graceful and elegant, she masters it all. No one's better or worse. We are just different and play it our best.

Pooja: Hanif, any day! He has the expertise and many more years of experience in dance than I have. He's definitely more superior when it comes to dance. I am always trying to be as good as him.

Also read :
Amita And Vikas Sethi: Two To Tango
Sweta And Alexx: The Indo-Dutch Foxtrot
Kiran - Ritu: Nach Baliye Or Lad (Fight) Baliye ?
Karan Grover - Kavita Kaushik - Cuties of the Nach Baliye sets!

A shaaditimes feature
Wills Lifestyle Casual Top For Women
Applique Work Stripes Kurti
Pink Printed Tunic
Rs.1,380 ($28.67)
Rs.1,495 ($31.06)
Rs.1,200 ($24.93)
Rs.2,135 ($44.35)











Ask our Experts :
Expert Advice, Personality, Immigration (US), Tarot, Hot Couture, Body Care, Matrimonial Laws, Sexual Health, Life, etc, Man vs Woman, Fitness.