Pooja And Hanif: From Jhalak To Nach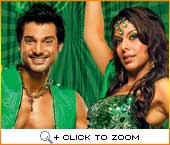 The pair that met as student and teacher on the sets of Jhalak Dhikla Jaa last year is participating in the popular dance show Nach Baliye - as a couple.

When Pooja Bedi and Hanif Hilal participated as celebrity and choreographer on Jhalak Dhikla Jaa, there was speculation about a possible romantic involvement then and soon, it was out in the open. They were dating and with Pooja having picked up a lot of dancing tips from Hanif in the last one year, the two are ready to roll Nach Baliye 3.


How did the two of you meet?

Hanif: We met through this reality show called Jhalak Dhikla Jaa about a year back. We carried on from there.

How has it been working with your life mate?

Hanif: It has been good. I have already worked with Pooja professionally so it wasn't much of a surprise. I think it's important to treasure and respect each other's personal space. It is also important to have a professional relationship away from your personal affairs. I see it as a creative process where no two people think alike.

It is nice working with her. It is almost like growing with each other. The positive energy is important. Pooja is understanding and creative in her own way. It's great to be working together again.

Pooja: Well, I have already worked with Hanif before so it wasn't much of a surprise. In fact, we have first worked professionally and then got together personally. We had started working together and then moved on to do many shows all over.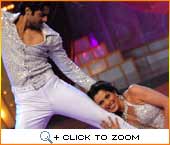 How has the Nach Baliye experience been so far?

Hanif: The experience has been fabulous. The more I dance, the more involved I get. I enjoy it thoroughly. It is an interesting experience in all and I am glad to have got this chance.

Pooja: The Nach Baliye experience has been very good. We are already professionally inclined, so it wasn't much of a problem. In fact, it's come to a point when our personal and professional facets are similar and it's easy to work that way. We continue to joke and play pranks on each other while on the sets, so it's a lot of fun at the same time.

What are the two qualities you like about her / him?

Hanif: Hmmm... Pooja is focussed, in fact extremely focussed. I like that about her. It may come across as being stubborn but I see it as being focussed to doing her work. At the same time, she is very kind and generous. Overall, we share a very understanding relationship and that's very important.

Pooja: I love Hanif's body movements and the drama that he brings to each step. He is already trained in Latin dancing so it makes it so much better.

Two qualities you don't like about her / him?

Hanif: I don't see anything that I hate in her. It's very important to have a mind of one's own and we have that. It's about understanding and respecting one another in every relationship.

Pooja: (laughs) Hmmm...let me think. I like everything about him. Ya, I don't like the way he sings! I hate it in fact! And sometimes he insists on singing at the table.












Ask our Experts :
Expert Advice, Personality, Immigration (US), Tarot, Hot Couture, Body Care, Matrimonial Laws, Sexual Health, Life, etc, Man vs Woman, Fitness.

Copyright © 2022 Shaaditimes.com - A relationship and wedding portal by Shaadi.com. - All Rights Reserved.
Terms and Conditions