A producer and a director
Pallavi Joshi and Vivek Agnihotri


The first thing that strikes you about this couple is their sense of belonging and faith in each other. Together they exude amazing love and compatibility. This husband and wife team is being dubbed as television's first 'producer-director' couple. Pallavi Joshi is a national award-winning actress with several films and television serials to her credit. She has also penned and produced several of her serials. Currently a household name, she hosts the very popular Antakshari on Zee TV. Vivek Agnihotri is an ex-ad man who has been directing television serials for an almost a decade. With serials such as Yeh Kahan Aa Gaye Hum and telefilms like Chocolate, Sikandar, he is currently planning to take the plunge into reality television. Six years into matrimony they make a formidable team.

In a free wheeling chat, the much-in-love couple shares their togetherness with ShaadiTimes.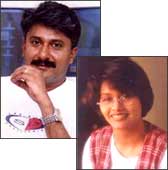 A Rocking Time
"The first time I met Pallavi was at a rock concert sometime in the early nineties," recalls Vivek. "It was merely by chance that we met. We had common friends who had invited us both. I was based in Delhi at the time but I had come to Mumbai for an ad-film whereas she was living in Mumbai so I guess it was just by chance that we met. Though I didn't know her personally I knew there was something we shared in common - I think it was the fact that we both were tremendously bored of the concert." Pallavi takes over.
"I was bored and thirsty and before I could ask one of my friends to go and get me something to drink Vivek very sweetly got me something to drink."


Attractions
Falling in love was a slow and gradual process for both. Says Pallavi, "I didn't like Vivek that much when I first met him and I think he didn't take to me either. I thought that being an ad-man he would might be one of those snobbish types and he thought that I might be filmi. But as time passed we got to know each other and before we knew it we were in love. We connected at several levels both professionally and personally. It's his ability to make things so simple and uncomplicated that I fell in love with." For Vivek it was pretty much her entire persona. "Her spirit, sense of humor and the way she conducted herself left me awe-struck. Though she was a well-known face she knew where to draw the line."

Wedding Bells
So after a three year courtship the couple finally decided to tie the knot on 28th June 1997. "We got married in the Chinmaya Mission Mandir in Mumbai in the presence of family and close friends. Our parents were happy with our decision and supported us throughout. Marrige is an extension of the family and we both felt the need to have the consent of all family members," they announce in unison.

The Secrets to A Good Marriage
"I think the key to a successful marriage is complete acceptance of your partner," says Pallavi. "You have to completely accept your partner's positives and negatives. Another important virtue is extreme faith on your partner and marriage, which is the cornerstone of any marriage. Giving each other space for growth is also essential as we live in a world where both husband and wife have professional goals." Vivek carries on from where his better half left off. "Marriage and dating are two different things. In marriage you are actually living with the person and you need to make a lot of adjustments - physical and mental. It could be as trivial as which speed to keep the fan running on at night or as important as adjusting to another's value system. I think communication between husband and wife and the resulting adjustments made on each side go a long way in making married life a success. Pallavi and I always communicate our feelings to each other honestly."

Her Strengths
Her greatest strength lies in her integrity. She is passionate and determined about everything she does and I believe such a person's faults are too small to even mention.

His Strengths
He is excellent at management and has a knack of making effective decisions in tough times. A very levelheaded individual, he is extremely tolerant of my tantrums. His only weakness is that he gets tired of one kind of activity very easily. He needs variety in whatever he does.

A-Team
Both husband and wife feel that working together has brought them closer together as a couple. Says Vivek, "Working together does have it advantages and disadvantages. As far as I am concerned working together has had a positive impact on our marriage. You are in constant contact and as we both enjoy and respect each other's professional abilities." Pallavi tends to agree. "There is a certain amount of closeness that comes with working together especially when you are newly married. We share a wonderful professional relationship."

No room for ego
Vivek and Pallavi have never let personal ambition get the better of them. "My popularity has never affected our marriage," says Pallavi. "Vivek has accepted it completely and we have never let it come before our marriage and family. As you progress in life your ambitions start to change and for me they changed after marriage especially after the birth of our two children. My ambition now is towards the betterment of my family and the overall development of my children, Mallika and Manan."

Friends for Life
Vivek and Pallavi share a wonderful friendship besides being a loving couple. "I guess we are more friends than husband and wife," says Pallavi. "You cannot stay married for long if you aren't friends. Friendship is everything in marriage." Vivek feels the same way. "Marriage becomes clinical if there is no friendship between husband and wife. Without friendship a couple would be confined to limited functions within the marriage. Pallavi and I share a great friendship and when you come to the stage of life where you are so busy in your work that you've lost all contact with old friends - its good to know that I still have one... to go home to."


Aseem Hattangady
Cotton Kurta with Gold Print
Wills Lifestyle Casual Denim For Men
Applique Work Stripes Kurti
Rs.1,000 ($20.77)
Rs.1,380 ($28.67)
Rs.769 ($15.97)
Rs.1,695 ($35.21)
Rs.1,200 ($24.93)











Ask our Experts :
Expert Advice, Personality, Immigration (US), Tarot, Hot Couture, Body Care, Matrimonial Laws, Sexual Health, Life, etc, Man vs Woman, Fitness.