Time has not withered...
Nikki and C. P. Reddy share an enduring bond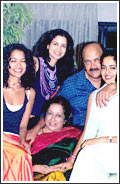 Thirty-three years of marriage and still going strong. He is an established businessman who prefers to stay away from the limelight. She is a qualified microbiologist, a feng shui practitioner and a philanthropist. C.P. Reddy and Nikki's is a match that has stood the test of time. And if, the children a couple bear and bring up are any indication of the couple's successful partnership, then the three very famous and successful daughters (Meghna, Sushma, Sameera) of the Reddy's are a commendation of their wonderful innings.

In a candid and warm interview with ShaadiTimes, this interesting couple share nuggets of their married life.


No second thoughts
"I first saw Nikki in 1966, when she came to my office at Worli, Mumbai with a couple of friends," says Chintapoli Reddy (C.P. for short). "I was sitting in my office when she passed by and one glance from her was all it took for me to fall in love with her. We were formally introduced by common friends. I was truly in love with her, and in an attempt to pursue the matter further I befriended her family and became a frequent visitor to their home." Four years of courtship later, they became man and wife. Says Nikki, "marriage was a mutual decision. We got married at the Balaji Temple in Mumbai and went honeymooning all over Europe."

Janam janam ka saath
"I can't explain it, but it felt like I had known her forever," beams C.P., "aise laga jaise janam janam ka saath tha . The instant chemistry between us was something I couldn't resist." Nikki, on the other hand, knew exactly why she had fallen in love with him. "He was tall, dark and handsome! He spoke sensibly and to the point; we were two completely different individuals who had formed a wonderful bond," she says.

Thirty-three not out
What is the secret of such a long and successful partnership? "Knowing your partner through and through is very important," feels Nikki. "Initially, during the courtship phase, it is all roses and romance, but the real personality of your partner is truly exposed when you are thrown under the same roof. My advice to a couple, who has problems adjusting, is to stop thinking in terms of 'sacrifice' and 'background'. Marriage was a mutual decision you made. For any marriage to last there has to be a companionship, a two-way communication and trust from the very beginning," she affirms.

C.P. thinks that mutual respect and love should exist between a husband and wife for the bond to endure. "We share our goal, vision and outlook towards life," he maintains, illustrating his point.


Today, it may be easy to get out of a marriage, but my sincere advice to the young generation would be to give marriage a chance.
Give marriage a chance, not the axe
"Every marriage has teething problems," says Nikki matter-of-factly, "the first six months of marriage are very difficult and call for a lot of adjustments. If you are willing to adjust some, forget some, forgive some and let go some during this period, then your marriage is bound to last. Today, it may be easy to get out of a marriage, but my sincere advice to the young generation would be to give marriage a chance. Marriage has given me a lot - a loving husband, three amazing daughters, love, security and self-respect."

Friends first
"Friendship is essential in any marriage," offers C.P. "With the years, you get to know each other better and you appreciate each other even more. My love for my wife grows everyday." Nikki seconds that. "Friendship has carried our marriage thus far. My husband is still very romantic; we still enjoy romantic dinners together. In fact, every Saturday, we make it a twosome for dinner. We call it our 'weekly honeymoon' and have been following the ritual for many years now."

Washing dirty linen in private
Like every normal couple, they have had their differences. "It is natural for a husband and wife to fight once in a while. However, we make it a point never to fight before our kids or any outsiders because that leads to erosion of respect. It is always better to settle the differences in private," insists Nikki.

"And how do we make up after a fight? You'll be surprised, we don't say sorry to each other. We give each other the space and time to get rid of the anger and before you know it, everything is normal again."













Ask our Experts :
Expert Advice, Personality, Immigration (US), Tarot, Hot Couture, Body Care, Matrimonial Laws, Sexual Health, Life, etc, Man vs Woman, Fitness.

Copyright © 2021 Shaaditimes.com - A relationship and wedding portal by Shaadi.com. - All Rights Reserved.
Terms and Conditions