Laugh and be married


Diving in deep with the Prince of humour from the world of advertising
Prahlad Kakkar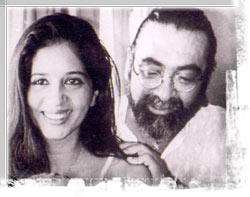 A man with a razor sharp mind, one who possesses an unusual combination of a fantastic sense of humour, coupled with oodles of creativity, Prahlad Kakkar is easily recognized by his long hair and trademark hat. A man with a flavour for life, he is affectionately referred to as the 'madman' of the ad world. Prahlad is one of the most creative ad filmmakers the country has. Slogans like 'Mera number kab ayega ' and 'yeh dil mange more ' bear his stamp.

Ad-man, scuba diver and a die-hard foodie, is how you can best title Prahlad. Married to Mitali, also an ad-maker and a scuba diver, they have been successfully somersaulting through a healthy married life for 18 long years now.

His sense of humour is by now history. Whilst most married men find marriage a serious business, for Prahlad the mantra for a successful marriage is humour.To get an insight into the multi-faceted Prahlad, we get him to talk on a variety of topics.

On Marriage
My marriage was a union of the beauty and the beast, where I played the part of beauty, of course. As happily married as I am today, I can easily say that back then, when I was a bachelor, I was constantly at the verge of rejection. Nobody accepted either my work or me seriously. Perhaps marriage is a small price I pay for being the beautiful beast that I am, with long hair, beard, et al. But it was not after basking for a long time did I decide to get married to Mitali, a beautiful woman (now my wife) and a stunner in every sense of the word.

A bit more on Mitali
I remember her stepping in this very office with a friend of mine and bowling me over. I cast her for a shampoo ad and gradually fell in love with her. Initially, like all crazy guys who prefer to be bachelors, I didn't want a commitment, since the age difference between us was humungous- 14 years. She was 22 and I was a 36- year- old splendid bachelor. One fine day she gave me an ultimatum and said, "either marry me or go to hell." So I chose to marry her fully aware that hell would never be as heavenly as this one. I ran to Siliguri where she was vacationing with her parents and proposed to her.


It was then I realized her value. You see, when you have something, you tend to take it for granted never realizing it's worth until it goes away from you. I realized how important Mitali was when she went away. God, it was really difficult to let go!" And tell you what! Marriage is tiring! I mean, after 18 long years and three amazing monsters as my children Arnav, Varun and Anajinsama, (the youngest toddler is the one who appears in the Britannia ad with Sachin Tendulkar); life is still magical and it never ceases to amaze me!

I seriously don't know what she saw in me because every time she looks at herself in the mirror she admires her beauty and then from the corner of her eye she sees the most beautiful man with beard and long locks and envies him. But she still carries on with me because I cook and she can't.

The way to a girl's heart... cooking
I started cooking initially because I realized that I would have to take on a slightly different approach towards women, as they were certainly not going to be attracted by my face. Cooking would be a unique attribute and it would help me talk my face away. Food fascinates me. Even my office sports a full-fledged kitchen. I don't look like a hunk but I have an exquisite lady as my wife, because what I lack in beauty, I make up with experience.













Ask our Experts :
Expert Advice, Personality, Immigration (US), Tarot, Hot Couture, Body Care, Matrimonial Laws, Sexual Health, Life, etc, Man vs Woman, Fitness.

Copyright © 2019 Shaaditimes.com - A relationship and wedding portal by Shaadi.com. - All Rights Reserved.
Terms and Conditions