Sharing of Soul - Kiron and Ramesh Sippy


Happy marriages begin when we marry the ones we love,
and they blossom when we love the ones we marry.
- Tom Mullen.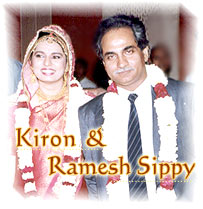 This holds true for Ramesh and Kiron Sippy, too. Though he was married earlier, Ramesh Sippy didn't lose hope of finding love once again and finally he did when he met Kiron at a stage when he was 42 and she was 30.

They got married on 5th February 1990 after a four-year long courtship and 13 years later they are still very much in love.

Kiron and Ramesh are an inspirational example to those who are not afraid of finding love once again after losing it.


First Impressions
"It was during the casting of the serial Buniyaad that I met Rameshji ," says Kiron. "It wasn't love at first sight but respect and appreciation from my side as he was my director. We were working together and perhaps somewhere down the line our acquaintance developed in a relationship that matured with time. What attracted me towards him was his sense of maturity and his kind nature. He always had a kind word for everyone and treated everyone with respect irrespective of his or her class," recalls Kiron.

"Kiron came in my life like a bright spark. Her intelligence and go-getting attitude was intimidating. She saw both my professional and personal life. When I was going through a rough phase in my life due to my marriage she gave me the emotional support I needed. She was one of the main artists in the serial and during the course of work we seemed to vibe well with each other," says Ramesh.

Second Innings
"We courted for four years before tying the knot," informs Kiron. "Initially, my mother was worried because the age difference between us was huge - 13 years and he was already married. But she supported me completely as she knew that I would never take a foolish decision."

"Even though my previous marriage didn't work, I didn't lose faith. One bad experience didn't dampen my hope of starting a new life with the one I loved. Marriage is a union of two people who share something intimate and I wanted to carry that feeling for life, thus I decided to marry her even though I was 42 whereas she was 30," reflects Ramesh.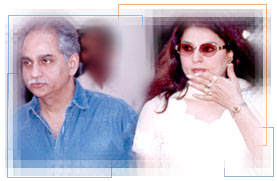 Mantra for Marital Happiness
"Marriage needs a lot of effort, patience and tolerance especially when you are married to a celebrity," explains Kiron. "You need to give each other space and understand each other's needs. Initially, after marriage I demanded all his time and would get upset if he came home late after a hectic shoot, but with time I realised that I was being unreasonably demanding considering his work load and erratic timings. I learnt to be more patient and to accept his ways."

Ramesh believes that, "selfishness, blaming your partner, hurting one another's feelings, insecurity, lack of healthy communication, expecting your partner to understand you without opening up your thoughts are all symptoms of a weak marital bond and destroys a relationship. To have a healthy marriage you need to take responsibility and resolve all the problems by talking and discussing."

Your's are Mine
"My relationship with Rohan, Sonia and Sheena (children from Rameshji's earlier marriage) is that of friendship because there isn't much age difference between them and me," cites Kiron. "When I married Ramesh they were mature enough to understand our relationship and so they never treated me as the other woman in their father's life. Even today they come over during festive occasions and we all celebrate it together."













Ask our Experts :
Expert Advice, Personality, Immigration (US), Tarot, Hot Couture, Body Care, Matrimonial Laws, Sexual Health, Life, etc, Man vs Woman, Fitness.

Copyright © 2019 Shaaditimes.com - A relationship and wedding portal by Shaadi.com. - All Rights Reserved.
Terms and Conditions