Kiran - Ritu: Nach Baliye Or Lad (Fight) Baliye ?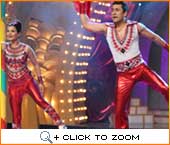 Kiran and Ritu Jhanjani were the first couple of Nach Baliye 3 to be ousted. Ritu blanked out and they were not allowed another performance. The scores were low and the votes were few.

It could be because Ritu has never experienced the world of showbiz and this is her first time on a dance show. Kiran on the other hand is a dancer and didn't expect their fallout after the first round. But they are set to rock the stage with the wild card round.


How did the two of you meet?
Kiran: It's a funny story. I am a party maniac and used to be known as a playboy when I was with Jet Airways. When Ritu joined Jet I had already resigned. But she had seen my posters where I had posed for Jet uniforms. Once she came to Delhi and a friend who had a crush on her asked me to pick her up and, more specifically, to stay away from her.

Once I saw her I had to show off all my style. I drove her from the suburbs to town. She was scared and wondering if I was the same guy she had seen posters of. So we were both edgy and that night we fought. But because of common friends we met a number of times.

One particular Diwali night was different. I had cut down my drinks and sobered down. That's when we got talking and now we are married. And the friend who initially introduced us ignores me every time we meet... even though we are married!

How has your Nach Baliye experience been so far?
Kiran: Ritu is an airhostess and Nach Baliye is different from dancing at a disco or party. You have to be a dancer with a competitive spirit. You have to get aggressive, powerful and competitive. But overall, it has been great fun.

Ritu: The experience has been great. It's something new for me so I was thrilled. Now we are practicing again. It has been exciting because working with your husband is different from living as husband and wife. It has been fun and besides, Nach Baliye is such a popular show, this is the third season. So I am thrilled.

You were the first couple to be out?
Kiran: Initially we were upset but now we are taking it as an accident. We are preparing for the wild card entry. We are kickboxing and ready to bounce back. Nach Baliye is certainly a good platform and it is going to help us in taking up more outdoor performances. For Ritu also, she doesn't have to be in showbiz. But after the 2nd round it had become like a life thing for her. She wants to be a dancer.

We want to perform to entertain and make the judges feel, 'God, they're good!'

Ritu: I'm working hard for the wild card round. Not for 'you get me' types but working hard once again for a good performance. I do kickboxing and other activities so that my body doesn't get caught up.

How has it been working with your partner?
Kiran: When you have been in the industry you feel you know everything. So I tend to show off around her. It is difficult for a newcomer. But she never took it seriously. She accepted what I suggested and she was positive enough to take it and understand it.

I have been aggressive 2-3 times and I have even been called 'lad (fight) baliye '. But then you fight with everyone... your mom, dad and everyone. Working together makes you nicer and more understanding. I think we get along.

Ritu: We have never worked together professionally. Earlier we used to call up each other to ask... where are you. But now we prepare for the same thing and wake up for the same thing. You have the same mindset. You have interviews, practice, etc. So we have moved on from 'where are you'.












Ask our Experts :
Expert Advice, Personality, Immigration (US), Tarot, Hot Couture, Body Care, Matrimonial Laws, Sexual Health, Life, etc, Man vs Woman, Fitness.

Copyright © 2022 Shaaditimes.com - A relationship and wedding portal by Shaadi.com. - All Rights Reserved.
Terms and Conditions