Karan Grover - Kavita Kaushik
Cuties of the Nach Baliye sets!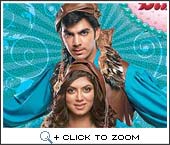 They first met at a hotel and later at a party. Karan offered her a drink and she asked him 'Are you the bartender?' They are still high on life. Karan stars in serials like Saarathi and Meri Awaz Ko Mil Gayi Roshni, while Kavita has done a lot of serials like Tumhari Disha, Kahani Ghar Ghar Ki, Kumkum - Ek Pyara Sa Bandhan and Dil Kya Chahta Hai.

So, how did you meet Karan?
Kavita: Hmmm... we met at a Christmas party two years back.

How has it been working with your mate?
Kavita: It will sound very clichéd but it has been fantastic. I have told all his female co-stars about how lucky they are to be working with him. He's very professional and very caring. I love working with him.

Karan: Completely mind blowing! It has been a great working with her. We have never really worked together except for a very small part in Saathi where I wasn't really a part of the team. It's good to be together day in and day out. The best thing about us is that we have the same attitude towards work.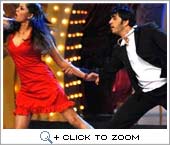 How has the Nach Baliye experience been so far?
Kavita: Honestly, it's been very tiring. There have been too many things to do. Karan and I work on top of this. Karan has a regular soap to take care of and I have a weekly. So, sometimes it gets difficult to keep pace with everything. But at the same time, despite being this busy, the Nach Baliye experience has been very fulfilling.

Karan: The Nach Baliye experience has been a learning one. This year has been a year of changes for me. And Nach Baliye has just been another change for me.

What are the two things you like about Karan / Kavita?
Kavita: Karan is very energetic. He has energy all throughout. Even if he's working all day long, he will still have the energy for everything else. He will not only keep his energy levels high, he will make sure he keeps everyone else's energy levels high too. He's got this 'never say die' attitude. Besides that, he is very optimistic. That's the second thing I love about him.

Karan: Her energy for one. I love her positive outlook in life. Another thing I like about her is that she's very understanding so she completely balances me out. She is the most understanding person I have ever met. She's always there by my side when I need her.

The two things you don't like about him / her?
Kavita: Ummm, the 'never say die' attitude that I just told you about gets too much sometimes. Karan is always full of life. There are times when I want him to rest and I want him to say he's tired. But he never says that. He's a workaholic, loves to work, work and only work. The second thing I don't like about him is that he's obsessed with gadgets and new technology things. Sometimes so much that I wonder if he'll turn into a robot someday!

Karan: There is actually nothing that I totally dislike in her. I only wish she would regularise her eating habits. She has bad eating habits, which lead to her illness and headaches. She needs to have a more regular eating pattern. Also I wish she would start on some pattern of workout. She does nothing of the sort right now.

Have you ever faced any sort of stress on the sets?
Kavita: Ya, a lot of it! The long hours take a toll on me completely. We shoot from 9 in the night that continues up to two in the morning sometimes. The long hours make it stressful because of which my eating habits have gone haywire. While on shoots, I prefer not to eat. And when I shoot for long hours, I just don't eat. Then I get headaches.

Karan: There hasn't been that much of a stress. What I would consider more stressful is watching performances one after the other for hours. These don't seem to end! And you just land up impatiently waiting for your turn. That is very stressful. I'd rather finish off and go home.












Ask our Experts :
Expert Advice, Personality, Immigration (US), Tarot, Hot Couture, Body Care, Matrimonial Laws, Sexual Health, Life, etc, Man vs Woman, Fitness.

Copyright © 2022 Shaaditimes.com - A relationship and wedding portal by Shaadi.com. - All Rights Reserved.
Terms and Conditions