Together in holy matrimony
Gautami and Ram Kapoor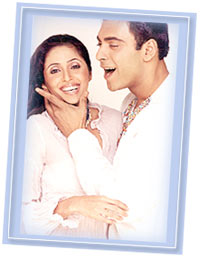 There can be no better words than these to describe the newlyweds, Gautami and Ram Kapoor. A relationship which began as friendship on a shooting location slowly morphed into love and later, marriage. The couple got married on Valentine day this year. Only nine months into holy matrimony, yet on meeting them one gets the impression that they have known each other forever.



Two souls with but a single thought,
Two hearts that beat as one.
- Friedrich Holm



In a tête-à-tête with ShaadiTimes, this lovely couple talks about love, marriage and their dreams.


Punjab-ka-putter meets Mumbai-chi-pori
"We met each other on the sets of Ekta Kapoor's Ghar Ek Mandir ," says Gautami. "I had been informed in advance that I was being cast opposite this actor, Ram Kapoor who was slated to play the character of Rahul. On the day of the shoot he appears on the set and introduces himself, the formal introductions done with we get down to rehearsals. This guy goes through his lines in a rather drab and boring manner leaving no chance for understanding or interpretation. I feel really sorry for his lack of talent. Minutes later, without any visible expression on his face, he steps in front of the camera and when the camera rolls, he delivers an extremely powerful performance that leaves me stunned and tremendously impressed."

As different as day and night
Falling in love was a slow and gradual process for the couple that started off as colleagues. "I was attracted to her because she was so different," says Ram. "Despite having divergent personalities we were able to find common ground between us. Even though we are poles apart we have the same goals in life and that's what brought us together," he adds. For Gautami, the reasons for falling in love were aplenty. "His sense of humor and a unique ability to make everyone around him very comfortable left me mesmerised. Ram has a lot of shades to him; he is a frank, broad-minded and a supportive human being."

Hey Ram!
Love works in mysterious ways often forcing us to do wonderful things for the ones we love. For Gautami, one of the biggest revelations in her relationship is the fact that Ram is in every sense 'romantic'. "It's not the big things that really matter," she beams, "it's the little things that make your relationship really worth it. I remember this one time he sent me a huge card saying 'Hundred reasons why I love you' early in the morning. The milkman and the card reached my place simultaneously. Once, at the end of a tough day of my shooting, Ram showed up on the location just out-of-the-blue and we drove up to Lonavala for a wonderful stay at a five-star hotel," says Gautami.

Battling fears
"Subconsciously, we both knew that this wonderful relationship will end up in marriage," informs Ram. "We knew we were in love and battled every fear that any couple has before taking the plunge," he says. Gautami, on the other hand had no fears, whatsoever. "I knew this relationship was for keeps, the only thing left was to give it new meaning," she affirms.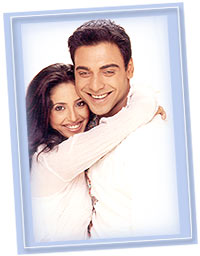 The proposal
Following age-old traditions, it was Ram who initiated the proposal for marriage... in a rather unconventional way. "We were at a wild party at Olive the night I proposed to her. I didn't propose to her the way they do it on television; it was just a simple - let's get married and she accepted. Even though we were a little tipsy, I knew what I was doing. I couldn't have been drunk as I remembered the incident next morning and was even happier that I had asked her to be my wife," reminisces Ram.

Family in tow
When a Punjabi boy decides to marry a Maharashtrian girl there is not only an amalgamation of culture but also a definite reaction from the families. In their case, there was an instant, not unexpected reaction. "My mother and brother freaked out when they got to know my wedding plans. However, in due course of time they agreed," says Gautami. "I have to give full credit to my family for supporting my decision to marry Gautami," says Ram. "They knew the pluses and minuses of my relationship and gave me their blessings and their much-needed support."













Ask our Experts :
Expert Advice, Personality, Immigration (US), Tarot, Hot Couture, Body Care, Matrimonial Laws, Sexual Health, Life, etc, Man vs Woman, Fitness.

Copyright © 2018 Shaaditimes.com - A relationship and wedding portal by Shaadi.com. - All Rights Reserved.
Terms and Conditions