A picture perfect couple - Zenobia and Boman Irani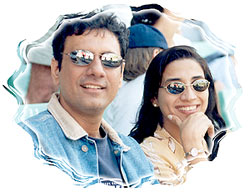 His middle name is versatility. An ace photographer and a talented actor, Boman Irani has done it all - theatre, television commercials and films. With flicks like Everybody says I'm fine, Let's talk and Darna Mana Hai, Indian film industry has found another multi-faceted and talented actor who can give a hit. Happily married for 18 years, with two kids and a career at its pinnacle, Boman is on top of the world.

In an exclusive with ShaadiTimes, Boman and his wife Zenobia talk on love, life and marriage.


Wafers and love
"The first time I met my wife Zenobia was in 1982 when she came to our shop as a customer," informs Boman. He was running the family potato chip business brand, Golden Wafers for almost thirty years, before becoming a photographer and an actor. "She lived just a few blocks from my shop and though she was a regular customer we didn't know each other personally. Finally, after a few days, a common friend introduced us. She came in quite frequently but it took me three months to muster up the courage to take her out. For our first date we went to see an English film, Genghis Khan , starring Omar Sharif." Genghis Khan , on a romantic date? "There was nothing good running in the theatres, that day," he smiles.

Slow and steady
Both, Boman and Zenobia concur that it wasn't love at first sight. "We fell in love three months after we met and were committed to each other within six months," informs Boman. "Though, I wasn't instantly attracted to her, I always felt a hidden chemistry between us. She had, and still has, a very pleasant, warm and simple personality. That's what caught my attention," he adds. For Zenobia, the man of her dreams was near-perfect. "He is a solid person with a strong character and a sense of humor to die for. From the day we met, I knew that our commitment would lead to something much bigger."

Parents? No problem
"Marriage was a mutual decision; we both knew we wanted to get married right from the start," says Boman. Breaking the news of their wedding plans to their respective families and getting them to accept it was really easy for this couple. "Both our families didn't have any problems in our getting married," they announce in unison. "I was getting married to a Parsi man and into a Parsi family so there wasn't any problem," says Zenobia.

Marriage - Parsi style!
And so the love-struck couple finally decided to tie the knot after three years of wonderful courtship. "Our wedding was an elaborate ceremony that took place at the Colaba Agiari (fire temple) in Mumbai. The wedding was a mix of Irani and Parsi customs and rituals, though the social customs were more Parsi," says Boman. "We had the madosara which is a four day engagement ceremony and a typical Zoroastrian wedding. I was wearing the traditional dagli (a white gown) and black phaita (Parsi turban) while Zenobia wore a saree . Though the wedding wasn't such an expensive affair the food catapulted our expenses skyward. With the Parsi lagan-nu-bhonu , (wedding delicacies) that is bound to happen," remembers Boman.

They were married on 25th January 1985 and honeymooned in Kodiakanal.

Their 'differences'
His Strengths: "He has a unique ability to adapt to anyone and make others around him very comfortable and relaxed. Besides, his sense of humor is one of his greatest strengths.

His Weakness: "It's very easy to take him for a ride. He is very gullible and trusts people very easily." (Smiles)

Her Strengths: "She is a simple, logical and clean cut besides being a wonderful wife and mother to our two kids."

Her Weaknesses: "Rather than calling them weaknesses I'd prefer to address them as differences in our personalities. Zenobia and I are like chalk and cheese - she needs time to plan in advance even if it's going for a film, she worries a lot about my health and she takes time to open up with people."

Accommodation time
"Marriage requires a lot of understanding and adjustment," says Zenobia. "You may know someone for ten years but when you have to actually live with that person there is always some adjustment to be made. I think complete trust and space in any relationship is important."

"I think though marriage is a scared institution you must take it cool, not be too rigid. It is best to diffuse any negative situation and never keep an argument pending."













Ask our Experts :
Expert Advice, Personality, Immigration (US), Tarot, Hot Couture, Body Care, Matrimonial Laws, Sexual Health, Life, etc, Man vs Woman, Fitness.

Copyright © 2021 Shaaditimes.com - A relationship and wedding portal by Shaadi.com. - All Rights Reserved.
Terms and Conditions