« continued from previous page


Destiny's couple
Niharika & Ayub Khan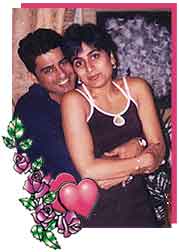 Does love go out of the window after marriage?
"No, it just keeps changing with time and your preferences," says Ayub. "Love is very dynamic. It grows and changes to different degrees through the different stages of life," elaborates Niharika. "Memories play a very important role in sealing love forever. With time, a lot of other things get added to love, like trust, responsibility, children etc. So it cannot die out if you are true to each other," she adds.

To me Niharika is...
"Niharika is everything I want to be. I wish I could be like her. She is patient and loving, and I know she will always be my side through thick and thin. She doesn't impose her decisions. She is quite easy with life, much unlike me. At times, I can be quite irritable as I keep dwelling on the past and find it hard to get over. In those times she helps me to look at the positive side of life. I have learnt a lot from her," gushes Ayub.


To me Ayub is...
His best half says, "Ayub is the practical side to our relationship while I am the emotional or crazy side. He is my conscience and my best friend. He is the Man whom all my friends would love to have in their lives. He is the perfect gentleman with a charming personality and a kind heart. However, he is very stubborn at times and I am trying hard to change this trait of his personality. Motherhood and marriage has changed me a lot. Previously, I was like a tomboy with a bindaas attitude. I was very spontaneous and could be quite selfish and irresponsible at times. Ayub has taught me to be a woman."

Spending time together
"I am at the mercy of my producers for time. But I try to spend as much time as possible with my children. I want to be a part of their growing up and want to be a part of their lives," says Ayub.
"The saddest part is that because of our hectic routines, we hardly get time to spend with each other. But we both make it a point to spend time with our children. I think spending time exclusively with each other is the privilege of the youth. We are too old for that," says Niharika.

Most expensive gifts
"I don't shop for myself. I shop for my home, children and Ayub. In fact, I hardly remember if Ayub ever got an extravagant gift for me. When I was just starting my career and in the initial stage of my marriage, I had bought a Rohit Bal outfit for him which cost a bomb," says Niharika. Ayub, of course, doesn't mind her shopping spree and loves indulging at times.

Tough times
"Both of us have been through tough times in our lives. But they were learning experiences," says Ayub. "In those trying times, everything went topsy-turvy... my personal life, my career... but I always believed that times will change. I tried to find peace in every situation. I did not think much about the present and just let it pass. My strongest source of inspiration was my mother. I have seen how she had gone through the hard times when my father passed away and how she had not lost her cool and brought us up single-handedly. I think that these bad times helped to shape me up as a human being," he said.

"Long distance relationships are very difficult to live up to. This I have realised from my own life. Someone else comes and fills up the space. But finding the right guy is also a tough job. When I was going round with Ayub in my college days, my best friend said that I should marry him. But I did not pay much attention to it. Later, when we lost touch and my first marriage snapped, I was searching for him desperately. I did not have a clue about his whereabouts until we bumped into each other after 11 years!! It was such a bizarre incident. You can say fate or kismat had its way and united us," reflects Niharika.


Amrita Biswas
Wills Lifestyle Casual Top For Women
John Players Signature Line T-Shirt for Men
Cotton Kurta with Gold Print
Rs.1,000 ($20.77)
Rs.1,495 ($31.06)
Rs.1,095 ($22.75)
Rs.769 ($15.97)











Ask our Experts :
Expert Advice, Personality, Immigration (US), Tarot, Hot Couture, Body Care, Matrimonial Laws, Sexual Health, Life, etc, Man vs Woman, Fitness.