Destiny's couple
Niharika & Ayub Khan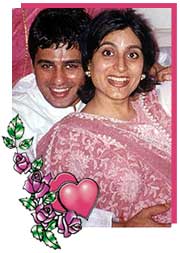 Niharika, the silversmith of the Akirahin chain, is married to actor Ayub Khan. Both come from diverse backgrounds. Niharika has Punjabi and Parsi influences in her family, and Ayub comes from a Pathan family. They are the proud parents of two daughters: Tahura (5 & 1/2 years) and Zohra (2 & 1/2 years). ShaadiTimes has a speedy chat with the celebrity couple on marriage and personal chemistry.



The love story of Ayub and Niharika Khan has many twists and turns. They were college sweethearts and married each other after 15 years of courtship. After college, Niharika went to US and found it difficult to continue with a long distance relationship with Ayub back in India. Both of them married their respective significant others, which did not last long. And after 11 long years of separation, they bumped into each other in a salon accidentally and rediscovered their lost love.


Will you marry me?
With a smile on her face, Niharika recollects, "It was a very special moment. Ayub had taken me to an Italian restaurant in Bangalore. We had a good time but he did not give me any hint of what he had in mind. On our way back, I was surprised to find a big bouquet of red roses in the car. It had at least 5 dozen roses and I found one fake rose in the middle of the bouquet. I said eeks and carelessly threw it away! When Ayub said that it had the engagement ring and that he wanted to propose to me, I started frantically searching for it. Finally it was fun and humour which took over everything else."

Poles apart
"We are like chalk and cheese," says Ayub. "But as the wise saying goes, 'Opposite poles attract each other'. I am very conventional while Niharika always votes for radical and new trends," he says. "We don't agree on a lot of things and have arguments. For example, Ayub is religious while I'm not. But that doesn't affect our relationship because it is based on the strong foundation of love and trust," chips in Niharika.

Do you believe in the institution of marriage?
"To live in a society you have to follow the norms of the society. You cannot fight the norm because if you do so you have to go on fighting throughout your life. And this will affect not only you but all your loved ones too, like your parents and children. Hence I think marriage is necessary to live an easy life. And if you plan to spend your life with someone why not make it a legitimate relationship and give a name to it?" says Ayub.

But Niharika has her own arguments too, "Given a chance, I would definitely have opted for a live-in relationship. Today we lead a very fast life and live-in relationships are more practical now. But keeping in mind the future of my kids, I have come to terms with marriage."

What makes your marriage work?
"Niharika is the one word answer for this," says Ayub. "Well, for a successful marriage you have to put in a lot of effort. You have to pay constant attention to your spouse, learn to accept each other's traits, habits and manners. You have to value her for the person she is and respect her views and emotions. The moment you start taking things for granted and become complacent, it will start affecting your relationship," says Ayub. "For me trust, communication and mutual understanding are the keys to a happy marriage," says Niharika.

Who calls the shots?
"Oh, I'm the typical good Indian woman and Ayub takes all the decisions," laughs Niharika. On a serious note, Ayub says, "We discuss everything before taking any step, so it is more of a joint decision."













Ask our Experts :
Expert Advice, Personality, Immigration (US), Tarot, Hot Couture, Body Care, Matrimonial Laws, Sexual Health, Life, etc, Man vs Woman, Fitness.

Copyright © 2022 Shaaditimes.com - A relationship and wedding portal by Shaadi.com. - All Rights Reserved.
Terms and Conditions